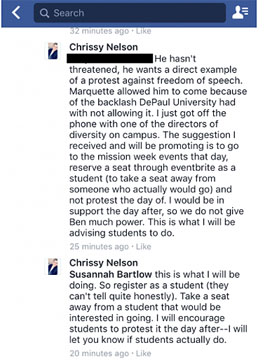 Monday, Jan. 30, a Marquette staff member commented on Facebook she would be attempting to deter the Feb. 8 Ben Shapiro event sponsored by the Young Americans for Freedom. Shapiro, a conservative lawyer, editor and speaker is to address to Marquette students his viewpoints on campus culture.
Chrissy Nelson, program assistant at the Center for Gender and Sexualities Studies, voiced her displeasure with the event and expressed a goal to block its success.
In her Facebook posts, Nelson said: "The suggestion I received and will be promoting is to go (to) the Mission Week events that day, reserve a seat through Eventbrite as a student (to take a seat away from someone who actually would go) and not protest the day of. I would be in support the day after, so we do not give Ben much power."
Nelson's concern stems from a Shapiro promise to make an example of any protesters that he encounters before the talk. All protests opposing Shapiro are slated to occur after the event, according to Nelson's posts.
"This is what I will be doing. So register as a student (they can't tell quite honestly). Take a seat away from a student who would go," Nelson said in her post.
The Facebook posts have since been deleted. The content of these posts is in conflict with university policy, and is being resolved internally.
"As we do with all student groups, our Student Affairs team has been working closely with the Young Americans for Freedom to assist them with their event," senior director of university communication Brian Dorrington said. "Student Affairs staff members approved their event before Christmas Break without changes, met with them in person to help with event logistics, approved their publicity and met their desire to find a venue with increased capacity. We will work to make sure interested attendees have an opportunity to see Ben Shapiro on Feb. 8."
Nelson's posts also seemed to hint that there may be more staff involved, but no names were given.
"I am staff at Marquette. I checked with other staff members just now," Nelson said in the Facebook post. "Some of them just found out today. I will let my supervisor know it is happening too. I will be communicating with other faculty and staff to extend student support on my end."
YAF chairman Mark Seeberg, a junior in the College of Business Administration, responded to the posts, calling for the university to investigate and hold accountable anybody attempting to interfere with the event.
"Conservative students at far too many other universities have also experienced the same type of bias," he said. "Young Americans for Freedom Marquette asks that students from all political backgrounds will defend free speech on our campus, even when certain administrators will not. Free speech does not entitle you to shut down the free speech of others."
Nelson could not be reached for comment before deadline.