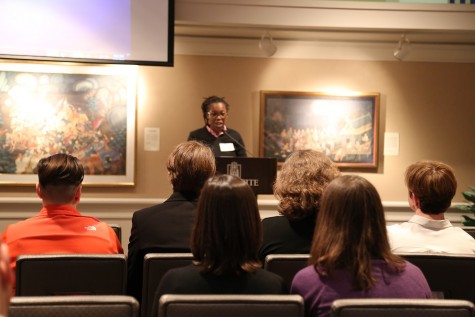 Marquette held its first annual LGBT Alumni Council Reception on Thursday, featuring faculty discussions about making campus more tolerant and inclusive of different sexualities, gender identities and ethnicities.
The event featured Provost Dan Myers, Angie Harris, associate cultural and social sciences professor and Center for Gender and Sexualities Studies director, and Jeff Janz, assistant vice president for student affairs. They said they want Marquette, Milwaukee and Wisconsin to become more welcoming and diverse. 
"It's our goal to help students recognize the diverse experiences of gender and sexualities," Harris said. "We want to cultivate respect."
Janz said the first Marquette coordinator for LGBT services and organizations has been hired. University of Nebraska-Lincoln graduate Enrique Tejada III will be starting in the position on April 4.
Myers appeared hopeful about progress Marquette is making. He split the Gender and Sexuality Resource Center into two different departments last fall, creating the LGBT Resource Center and the CGSS. He said diversity and inclusion is one of the most important focuses Marquette will have for the next five to seven years.
"We have a solid number of students visiting (the CGSS) on a regular basis," Janz said. "We work closely with LGBTQ students, both one-on-one and in groups in the LGBT resource center and other places."
"We are about to release our diversity plan," Myers said. "This is a plan about how we're going to address diversity and inclusion issues here at Marquette. As a strategic plan, the university elevated diversity and inclusion as one of the key six planks of the strategic plan."
Myers emphasized how he wants to create a safe and tolerant example that will move the university forward. He said everyone at Marquette deserves a voice.
"I think we're on the cusp of doing some new, wonderful things that are developing Marquette and really put us in a position of living our mission in an expanded way," Myers said.
Harris acknowledged how Myers has been helpful with addressing both gender and sexuality issues at Marquette.
"The (CGSS) provides a bridge space," Harris said. "We work with common experiences with gender and sexuality."
Marquette held a conference focused on the transgender community in November, making it the first Jesuit university to hold one. 
"About 150-200 people attended this conference of people that were trans or trans-identified," Harris said. "The conference was directed toward self healing."
Janz chimed in to say he attended the conference.
"I am very proud to say that I was at Marquette attending that conference," Janz said. "It was an experience that one needs to have."
Marquette is working to install more gender-neutral restrooms to include those who identify as transgender. The options started popping up on campus last semester.
"We were able to have gender-inclusive restrooms during the trans conference, and it went fine," Harris said. "So we're looking to have more permanent restrooms in (the Alumni Memorial Union)."
Harris also discussed this semester's intersectionality lecture series, hosted by the CGSS, to discuss issues of race, gender and sexuality and how they affect each other.
"We're also partnering with community organizations," Harris said. "That's one of our goals as service not just here at Marquette, but also in the community."