Meeting with provost covers Gender and Sexuality Resource Center struggles, Assata Shakur mural removal
Sophia Boyd, Student Government & Politics Reporter
September 15, 2015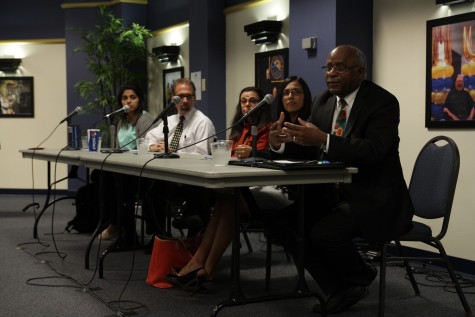 Around 20 people gathered with Provost Dan Myers in the Alumni Memorial Union on Thursday and discussed the future of the Gender and Sexuality Resource Center, which experienced turmoil in the past months.
The meeting, which was scheduled to last an hour but ended after two-and-a-half hours, included emotional dialogue about the recent struggles endured by the GSRC and its employees. It included a panel of Myers, Marquette Student Government Vice President Aliya Manjee and Office of Student Affairs faculty members, that assembled to address and listen to student concerns.
"This is one piece of the larger effort that we're really trying to make here to make sure all of our students are feeling included," MUSG President Zack Wallace said in an interview before the event.
Some students expressed frustration over a university decision in May to remove a mural in the GSRC that featured FBI Fugitive Assata Shakur. Formerly known as Joanne Chesimard, Shakur is on a FBI most wanted list for escaping prison and fleeing to Cuba after she was convicted of killing a New Jersey state trooper in 1973.
Some attendees said the decision was one of institutionalized racism. They expressed being hurt when little information or explanation was provided before and after the decision was made. They said the university doesn't have enough representation of African American figures on campus, and the removal further proved it.
"It would have been nice to have some time to go and take a picture and have some dialogue before they just took it down," said Nailah Johnson, a senior in the College of Health Sciences.
Johnson strongly and tearfully advocated for an apology from administration responsible for the decision, in addition to a space on campus to recreate what the mural symbolized. It was painted with help from Marquette's Mu Beta chapter of the Alpha Kappa Alpha sorority and included quotes from "Assata: An Autobiography."
In response to Johnson's testimony, Myers said "I want to change things. I came here to change things. I am really committed to this."
Center for Intercultural Engagement Director Eva Martinez Powless promised that a replacement for the mural will come. She said she's seen positive changes within the past three months.
"I have already had two or three meetings with the provost, and things are moving in a very good direction and they're moving fast," Martinez Powless said.
Myers started working as provost in July, after the mural was removed. In August he announced the GSRC would be split into into two new departments: a LGBT resource center and a Center for Gender and Sexualities Studies for research and teaching.
Former GSRC Director Susannah Bartlow said she chose to leave the university after facing termination when the mural was removed. The Center for Gender and Sexualities Studies is being led by Angelique Harris, a social and cultural sciences professor. The LGBT resource center is being overseen by Martinez Powless for the time being, but she said students can provide input during the search for its permanent director.
Bartlow's former supervisor and William Welburn, associate provost for diversity and inclusion, was involved in the decision to remove her from the university.
"I believe very strongly that we are not going to have processes like this again, especially when it comes to issues of how this campus handles diversity and inclusion," Welburn said. "Whatever we do moving forward, we have to think about women, women of color, African-American women specifically because of this incident. We have to think about the damage."
Cheryl Maranto, chair of the department of management, encouraged students to "haul our (faculty and staff's) feet to the fire" and continue fighting for equality.
The meeting also included discussions about gender-neutral bathrooms and Safe Zone training. Students and faculty expressed gratitude to be having the open discussion that the meeting provided.
"I think that students have an incredible amount of power if they can organize this and coordinate their voice with other things that are happening," Myers said. "And persistence is just so important."