Editorial: Reflecting on significant year of diverse campus speakers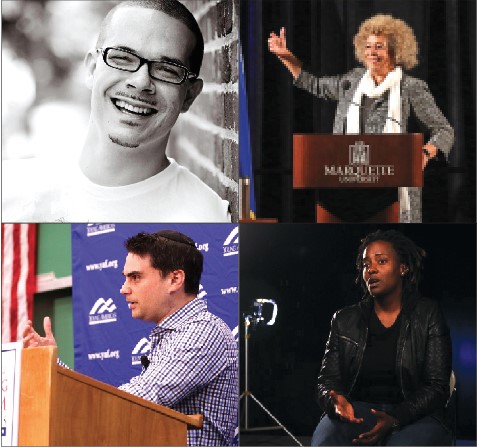 The university has hosted some fairly controversial speakers on campus this year and sometimes faced criticism because of it. But when there's public backlash in response to visits from people like Ben Shapiro and Angela Davis, for example, it shows Marquette is doing something right.
As university students during this unique time of political and social tension, division, unrest and activism, we must engage with those we disagree with — those who are different from us. Surely we have all heard that several times over the course of this academic year.
In the immediate wake of the November elections, college campuses became epicenters for racist hate speech and violent protest. Especially troubling incidents have taken place recently at campuses like Berkeley and Auburn, where university administrators have struggled with the decision to allow controversial conservative speakers to their campuses, and safety officials have worried about protests turning violent.
Thankfully, Marquette experienced no violent backlash to controversial speakers this year. The biggest altercation came when conservative speaker Ben Shapiro visited campus in February and a Marquette faculty member commented on Facebook she would be attempting to deter students from attending. Despite this, Shapiro was welcomed, and the event went on without issues. There was also some outcry over Twitter in response to civil rights activist Angela Davis speaking at the Al McGuire Center in March.
Some might call this debate and disagreement bad publicity for the university, and yes, it's tense and uncomfortable, but we need these strong voices on our campus, especially now. When Marquette does not waver in welcoming diverse opinions, it shows commitment to us students, and our academic and civic development.
During a year when public discourse and free speech in this country has both flourished and been threatened, Marquette, for the most part, has refused to back down or shy away. In doing so, they've made it clear to students, faculty and staff, parents, alumni, citizens of Milwaukee and the country, that this campus is an environment of tolerance and respect, a place where future leaders can grow.
Other noteworthy figures on campus this year included civil rights activist Shaun King, Bahraini human rights activist Maryam Al-Khawaja, Mexican immigrant rights activist Fray Tomas, Ugandan LGBTI rights activist Clare Byarugaba, Egyptian internet activist Wael Ghonim and Muslim journalist Noor Tagouri.
Offering someone a platform to speak at Marquette doesn't mean university administration endorses that speaker's every view. We students are not being forced to accept any opinion, and we shouldn't. What we should do is use the critical thinking skills we learn in our classes, listen to a variety of viewpoints and be critical of them, responsibly and respectfully. Next year, Marquette should continue to give students opportunities to grow in this way like it did so well this year.
Leave a Comment