Guard Duane Wilson transferring from MU
Hang on for a minute...we're trying to find some more stories you might like.
Marquette announced Monday guard Duane Wilson is transferring from the program.
Wilson personally announced his decision earlier in the afternoon on his Snapchat through a screenshotted statement, but quickly deleted it. He posted an amended statement minutes after the official announcement on his Twitter.
"Memories. Thankful for 4 years full of memories I will never forget," Wilson wrote. "Thank you Marquette for everything!!! With that being said, I will be transferring for my graduate year. I would like to thank the coaching staff for everything they have done for me & allowing me to be a part of this team. Also, thank you to the players for accepting me for who I am, always having my back and picking me up whenever I was down … just know we are brothers 4 life. I've built lifelong friendships with all of you.
"Growing up in Milwaukee I always wanted to play for the hometown team and be the hometown kid. This was a very hard decision for my family and I, but this is the best move for my future. I love you Marquette from the bottom of my heart!"
Wilson redshirted during his freshman year, allowing him to graduate in four years, transfer and play immediately as a graduate student. Wilson is the third player to transfer from the program this season, joining Sandy Cohen and Traci Carter. The transfer gives Marquette three scholarship openings for next season.
"We want to thank Duane for his contributions to the program and wish him the best of luck in the future," head coach Steve Wojciechowski said in a statement.  "We respect his decision to explore other opportunities and will be completely supportive throughout the process."
Wilson, who was the last Marquette player on the roster recruited by Buzz Williams, took a diminished role with the Golden Eagles in his third season. Wilson played a defensive role off the bench this season, though he was originally a volume shooter as an underclassman. He went from playing 28 minutes per game as a freshman and sophomore to 16 a game as a junior.
Wilson scored 4.8 points per game, 1.8 rebounds and 1.6 assists per game this season. He started 51 games and played in 95 during his Marquette career. He played 23 minutes and scored four points in his final game as a Golden Eagle Friday, his first NCAA Tournament appearance.
"It's just been great being a part of this, making it to the tournament, even though we wanted to win games we can say we made it here," Wilson said following Marquette's loss to South Carolina Friday. "We had a great season. We've just got to bounce back and finish back off this. … We'll be back. Trust me."

About the Writer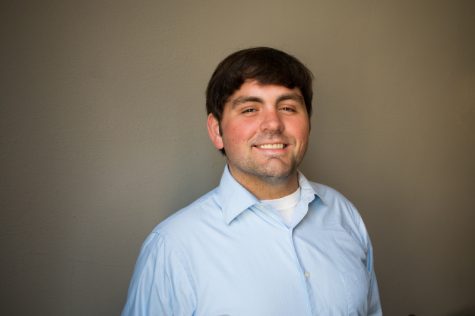 Jack Goods, Sports Editor
Jack Goods is the sports editor of the Marquette Wire, covering the men's soccer, basketball and lacrosse teams. He is a senior from Buffalo, New York...