Last night, the whole music world gathered to celebrate albums, songs and artists of the past year. James Corden hosted the soiree and didn't disappoint. He took what he does on the Late Late Show and what is going on in pop culture to a whole new level. He dressed up with DNCE and pretended to be a part of the band. He brought out a cardboard car cutout, so musicians including Neil Diamond, J Lo, John Legend and more could bust out a sing-a-long to a classic tune of "Sweet Caroline". Blue Ivy even made her way in. Another notable act of James Corden's hosting job is him calling out all the Twitter haters and calling them "fake news" giving everyone a good laugh. After last night, people would definitely be happy to have Corden back again as a host.

The performances also impressed for the most part. The viewers loved Ed Sheeran and his one man band. It's not every day you see a musician get up on stage and create a band through a loop machine. Beyonce, of course, blew the crowd away with her performance of songs from her "Lemonade" album that also showed everyone what motherhood is all about. Even with her pregnant belly, she could still work the stage. Sturgill Simpson did his thing with his acoustic guitar and then soon accompanied his set with a horn and strings section leaving everyone amazed on how a simple set could sound so good.

Other people were pleased to hear Alica Keys and Maren Morris perform "Once" with their dynamic voices belting the tune out had everyone on their feet at the end. Demi Lovato, a first time Grammy nominee, Andra Day, Little Big Town and Tori Kelly also performed. They made the Bee Gee's proud with their tribute.  No one could deny their incredible voices and how well these women could harmonize together.

More tributes took place. Prince was honored by Bruno Mars. He even wore the signature purple jacket to bring the whole act together. People were unsure what to expect with the Prince Tribute, but it didn't take long to impress. They played "Let's Go Crazy" and "Jungle Love" to get everyone lively and excited to celebrate the legend's life. Adele performed "Fast Love" to honor George Michael. As she started to sing, she didn't quite give the song justice, making her want to start over even though it's live TV. Adele being the cute, perfect human she is, no one cared at all and were so glad to get those extra few seconds of her singing the tune to perfection.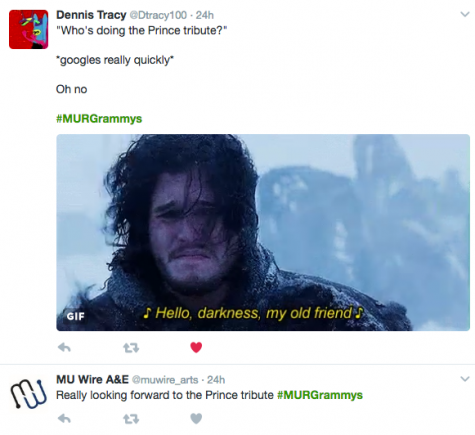 Other memorable performances included Katy Perry debuting her new song, "Chained to the Rhythm". People were digging her new look with her blonde hair, Ozzy Osbourne sunglasses and her hoop nose ring. However, people could have done without her new song. It was far from the sound of Katy Perry that we know and love. Bruno Mars sang "That's What I Like" from his new album. People were talking more about his outfit than his performance. Metallica and Lady Gaga came together to sing "Moth into Flame" .Lady Gaga "metaled" up her look to fit in with this crew for the big number. After she nailed the Halftime show, people were highly anticipating her performance. All was swell until Metallica's microphone gave out. People didn't seem to care too much because they could still hear Lady Gaga's powerful, soulful voice. Needless to say, Gaga stole the show.





Now to the awards, the biggest battle of the night was against the two queens of pop, Adele and Beyonce. As this poll shows, Adele won and dominated the night.

She went home winning the big three of the night–Record of the Year, Song of the Year and Album of the Year. Adele, of course, being her modest self still recognized Beyonce and her album "Lemonade" for their greatness. Adele was the queen of the night, while Chance the Rapper took the role of king of the Grammy's. He walked away with Best Rap Album of the year beating out Drake and Kanye West. He also got Best Artist of the year and Best Rap Performance for his song "No Problem."





Twenty One Pilots was another first time winner of the night for Best Pop Duo/Group Performance. They accepted their first award in a unique fashion of only sporting their underwear, making themselves the talk of the night. The big who is that of the night went to Maren Morris as she won for country solo performance for her song "My Church."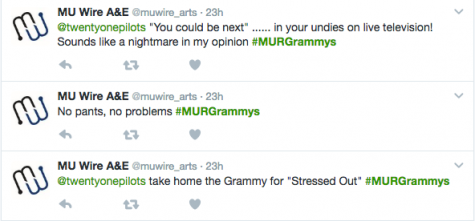 That's the important stuff you missed from the Grammys. Now get ready to wait around until they come back next year.