Last night, people took a break from their weekly shows like "The Bachelor" to tune into the 58th annual Grammy's award show. The awards show left people feeling all sorts of different emotions. The show opened up with Taylor Swift performing, which most found forgettable or were glad they missed it. However, it was followed by a much more memorable opening from LL Cool J, where he reflected on past moments of the Grammy's, showing clips from performances by ADELE, Lady Gaga and Elton John. He spoke about music and shared how important it is, "With all that divides us today, our shared love of music unites us."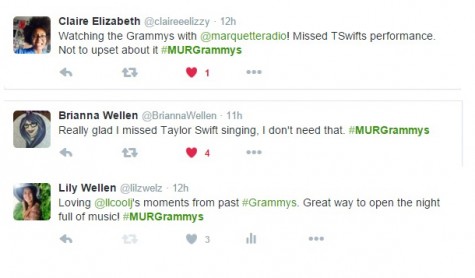 Many musicians took the stage last night to perform their hits from 2015. The most memorable include ADELE, who despite technical difficulties killed it, the incredible new artist Andra Day pairing up with Ellie Goulding brought down the house with their strong vocals, the soothing duet of James Bay and Tori Kelly and Justin Bieber's unique set of an acoustic performance then later amped up with the help of Skrillex and Diplo.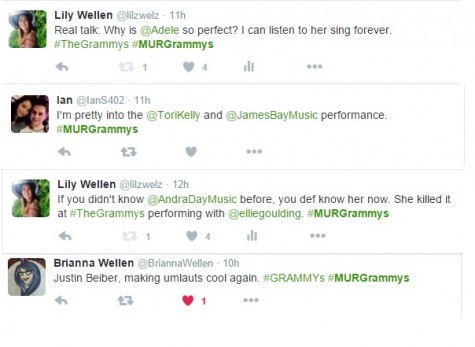 The most talked about performances would have to be the musical Hamilton's number and Kendrick Lamar's powerful medley of songs. "Hamilton" is a new musical that puts the twist of adding Hip Hop sounds to their musical performance, which wowed the viewers. Kendrick Lamar, however, stole the show with his theatrical performance. He made a statement by having his performers chained up and then performing an African dance, which resulted in a standing Ovation from the entire Grammy's crowd.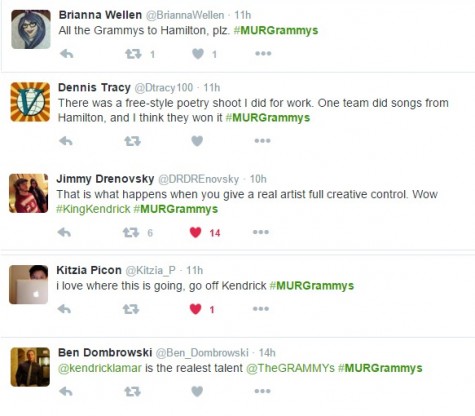 Some people on the other hand, did not enjoy the country duet between Carrie Underwood and Sam Hunt as well as Little Big Town's Performance of "Girl Crush." Twitter users joked about this being their bathroom and snack break, or even wishing that someone else was performing.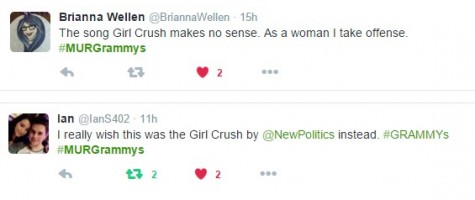 The Grammy's also honored the many musicians who have passed this past year as well as a tribute to MusiCares Person of the Year, Lionel Richie. Stevie wonder and A Capella group, Pentatonix honor Earth Wind & Fire's Maurice White with their rendition of "That's the Way of the World," simply by just harmonizing with a microphone in front of them.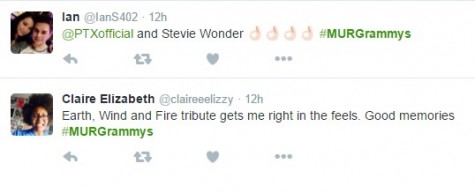 Remaining Eagles member came together to honor their deceased member, Glenn Frey. The band Hollywood Vampire made up of Alice Cooper, Johnny Depp and Joe Perry paid tribute to Motorhead's Lemmy Kilmister by singing "Ace of Spades." The tribute for Lionel Richie featured many star studded performers like Demi Lovato, John Legend, Luke Bryan and more singing his biggest hits. The one most talked about was Lady Gaga's tribute to David Bowie, where she took on his full persona to perform all his major hits like "Major Tom," "Changes," "Rebel, Rebel," and "Heroes."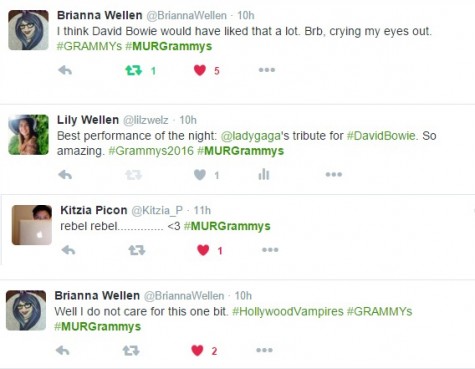 The main reason for the Grammy's, the awards, created mixed emotions for people. Some thought that artists were snubbed, and others thought musicians were well deserved. Big controversy arose among viewers when Taylor Swift's win for Album of the Year over Kendrick Lamar. However, viewers were very happy to see Kendrick Lamar take home the win for Best Rap Album, "To Pimp a Butterfly." Alabama Shakes taking home three Grammy's excited many viewers. Lastly, Mark Ronson and Bruno Mars took home the last Grammy of the night for Record of the Year with "Uptown Funk," which was well deserved.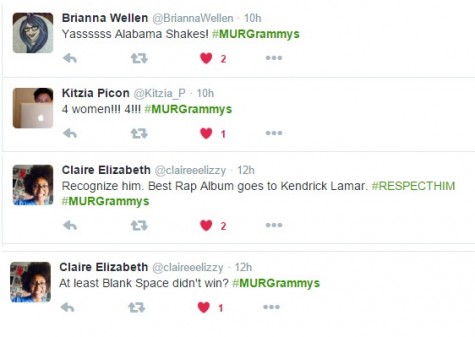 The three and a half hour show ended with a performance from Pitbull with a guest appearance from Sofia Vergara and Robin Thicke, which people did not seem to like due to its lack of creativity. Overall, the Grammys left their viewers feeling mixed emotions of happiness and disappointed. Can't wait until next time, Grammy's!