REVIEW: "Two Vines" by Empire of the Sun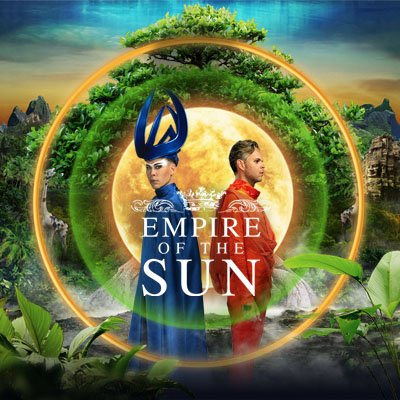 The Band: The Austrailian electro- glam-pop duo Empire of the Sun got their break when their first song, ​Walking on a Dream, ​ went platinum in 2008. Before they started working together, both Luke Steele and Nick Littlemore worked in other areas of the music industry. After being introduced by a mutual friend, they found that they enjoyed working together. They have continued to work together and released the first single ​High and Low ​of their most recent album titled ​Two Vines on August 24, 2016.
The Album: Before this album was made, Littlemore and Steele had a vision of what they wanted. In a press release, Littleton expressed this vision: "​This image of a modern city overtaken by jungle, almost like mother nature taking back the planet…all the buildings will turn back to sand. All it will be is nature again."​
It must have been helpful to emulate this vision while being surrounded by the tropical scenery.The writing and recording of this album took place in Hawaii and, after that, in Los Angeles. This project was very spiritual at its core during the writing process and in each aspect of production. It was produced by Empire of the Sun and Peter Mayes. In addition, many well-known artists contributed to this album to bring all of its elements together. Pianist Henry Hey and Bassist Tim Lefebvre of David Bowie's ​Blackstar ​ band, Fleetwood Mac's Lindsey Buckingham and Wendy Melvoin from Prince's band the Revolution all feature on the album.
The Sound:  The flow of this album is evident in each song. The beat and melody tie into each other with ease. The additional layer of techno sounds make each song sound cohesive. Vocally, Steele's falsetto adds an element of peace and transcendence, which carries the listener to the place that the artists imagined when making this album. ​ZZZ ​ and ​Before ​ stand out when thinking about the focus of ​Two Vines. ​ However, there are songs that do stray from this sound ever so slightly. The song ​Two Vines ​ starts off with an acoustic sound and vibrant vocals in comparison to the other songs where the vocals are downplayed by the instrumentals. It is refreshing to really hear and connect with the artists' message in this particular song when the lyrics are distinguishable. Compared to their previous work, Ice on the Dune, released in 2013, it feels like a much more complete piece of work. ​Empire of the Sun had a clear vision in mind when creating two vines, which really shows in each song.
Is it for me?:  Empire of the Sun is a unique band that goes beyond just the music. It's a whole performance and presentation of futuristic themes and ideas. They are similar to David Bowie and all of his different personas. While Steele and Littleton stick to one main theme, they have the same kind of aura. If you appreciate this kind of artistic display, Two Vines would be a great album to listen to. A modern day band that they would compare to is ​The Naked and Famous.
Final Thoughts: Empire of the Sun have had great success in Australia and the United Kingdom. Their single ​Walking on a Dream ​ went double platinum in Australia and gold in the UK. They are a successful modern day example of what it means to push boundaries and set a new ideals. I'm not sure how much their path will be followed by other artists in the future, but I am interested to find out. With this album, they take a bold stance on the creating and performing process. After watching some of their music videos, it is clear that they are not settling for just making music. They seem to be aiming higher towards the creation of this album as a whole, including style, characters, visuals, graphics in their videos and transcendence for the listener.  I would recommend this album to anyone who appreciates a futuristic vibe.
Favorite songs:​ ​High and Low, Way to Go, Two Vines.
Overall rating: 7/10

Leave a Comment