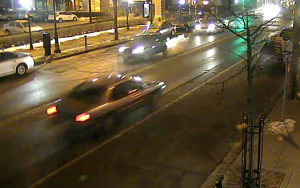 A female international graduate student was involved in a hit-and-run accident at the corner of 17th and Wells St. late Tuesday night, according to an email from Vice President for Student Affairs L. Christopher Miller to the Marquette community.
According to an email from Milwaukee Police Department Lt. Mark Stanmeyer, the student was traveling northbound at the intersection of 17th and Wells Street when she was struck by a car going westbound. The car did not stop and was last seen heading westbound on Wells. The car was captured on surveillance camera.
"The striking vehicle is described as possibly being a gray or silver Chevy Lumina that may have front-end or windshield damage," Stanmeyer said in an email. "Anyone who witnessed the crash or who has information on the whereabouts of the striking auto or driver is asked to call Milwaukee Police District Three at 414-935-7232."
The Department of Public Safety, MPD and the Milwaukee Fire Department responded to the scene. The student was "immediately transported to a nearby hospital and is being treated for serious injuries," according to the email from Miller.
"Our thoughts and prayers are with the student and her family," DPS Chief Paul Mascari said in an email. "I would like to commend the Public Safety officers and Milwaukee Police officers who responded quickly to the scene to investigate and provide initial medical care to the student until the Milwaukee Fire Department arrived. We will continue to work with the Milwaukee Police Department to investigate this incident."
Story continues below advertisement