Women's basketball travels to Wake Forest for first road game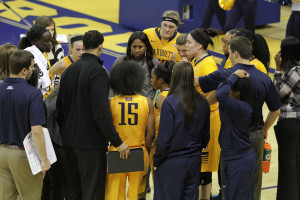 The Marquette women's basketball team will hit the road for the first time this season as the Golden Eagles take on the Wake Forest Demon Deacons.
The Golden Eagles (1-1) are coming off a home win against Loyola-Chicago, the first of coach Carolyn Kieger's career at Marquette. Wake Forest (2-0) opens the season on a four-game home stand and will be the first "power conference" opponent of the season for Marquette. The Golden Eagles defeated Wake Forest last season 90-71 in Milwaukee in the season opener for both teams.
Freshman Kenisha Bell has been a welcome surprise for the Golden Eagles, leading the team in points, averaging 15.5 per contest. Senior Arlesia Morse is just behind her, averaging 15 points per match. The duo also leads the team in minutes played by a sizable margin, with Morse averaging 32.5 minutes per game and Bell at 31 minutes per game. Both command the guard position well, especially in the win against the Ramblers.
As a team, the Golden Eagles head into the road match shooting relatively well. The team has a 42.9 shooting percentage from the field, but is only shooting 29 percent from behind the arc. Senior Chelsie Butler has been the best, converting 58.3 percent of her shots from the field. From the free throw line, Morse is perfect in her 12 attempts, while redshirt junior Lauren Tibbs has converted 12 of her 14 free throws.
After sitting out the Demon Deacons' home opener, senior Dearica Hamby notched her 26th career double-double, scoring 20 points and bringing down 12 rebounds. Hamby ranks second on the team in points; sophomore Mykia Jones leads the team with 23 points and shot 56.3 percent from the field during the first two games.
The Demon Deacons shoot slightly worse than the Golden Eagles, only making 41.1 percent of shots from the field. However, the team is shooting 37.9 percent from behind the 3-point line. Hamby and Amber Campbell are the free throw specialists for Wake Forest, as the two have made 75 free throws and are shooting a combined 87.5 percent from the charity stripe, respectively.
Both teams have had turnover problems to start the season. Marquette averages 24 turnovers per game, while Wake Forest averages 21.5 per game. Because the Golden Eagles turn the ball over as much as the Demon Deacons, the team will have the ability to take chances on offense and to play the fast-paced offense Kieger likes so much. While limiting the number of turnovers will be greatly beneficial for Marquette, losing the ball a few times might not hurt the team down the stretch.
Tip-off for the Golden Eagles is Friday at 5 p.m.
Leave a Comment