Marquette ready for Battle in the Al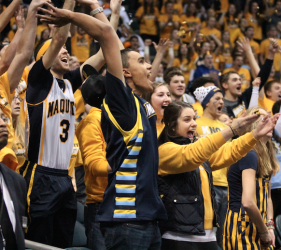 The Marquette men's basketball team will play their first regular season game ever in the Al McGuire Center when the Alabama A&M Bulldogs come to Milwaukee Dec. 19. The 3,700 seat multi-purpose arena will replace the originally scheduled home game at the 18,850 seat BMO Harris Bradley Center.Head coach Steve Wojciechowski is pleased to have a chance to coach the first team to play at "The Al."
"To be able to do something for the first time on campus in this facility, which is a great facility, I'm excited to see what the environment is like," Wojciechowski said. "I anticipate it being a great one and I think our players are excited to have the opportunity. As much as they love the Bradley Center, to play here is special and unique being the first ones ever to do it."
A scheduling conflict with Cirque du Soleil forced the Golden Eagles to move their December 19 matchup to the on-campus arena. Because of the dramatic difference in capacity between the two venues, the Marquette ticket office altered their purchasing procedures. Rather than including the matchup in the normal season ticket package, a limited number of seats were available to season ticket holders in a pre-sale from September 29 to October 3.
Students who purchase the "Fanatics" student section package will have an opportunity to buy tickets based on the number MU Rewards Point Totals earned by Dec. 1. Points are totaled by attending other sporting events up until that date on campus.
From a player perspective, the views varied from upperclassmen acquainted with the Al McGuire Center. Junior Steve Taylor Jr. was intrigued with playing at their practice venue, but felt bad for the fans unable to attend.
"I thought it was kind of cool because it's new; we've never had a game here before," Taylor said. "But I feel for the fans because there aren't enough seats to hold as many people that we do at the Bradley Center. My biggest concern is giving the people what they want."
On the flip side, senior captain Juan Anderson was a lot more optimistic, considering the potentially stronger crowd atmosphere created by the smaller venue.
"I was really excited about it. It seems like a lot of fun," Anderson said. "It's a lot smaller so I think it will be a lot louder. I wish it were during school so we could get a big student section, but it is what it is."
The event isn't the only time when the men's basketball team has competed at the Al McGuire Center. Besides the annual "Marquette Madness" event, the team also played games there in 2004 when former head coach Tom Crean scheduled two exhibition matchups with Lewis University and the University of Wisconsin-Stevens Point. As a way of thanking donors who helped pay for the $31 million facility, Crean decided to host the games on campus.
The matchup with Alabama A&M will be the first in program history. The Southwestern Athletic Conference foe is coming off a 14-16 (10-8 in conference) season.
Leave a Comment