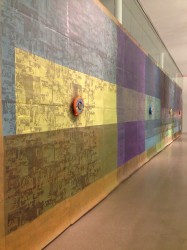 Artists look for inspiration each day. Local artist Tyanna Buie embraces the challenges of her difficult past and uses them to inspire modern, heartfelt print-maker creations.
Buie, a 2012 Mary L. Nohl Fellowship winner and Milwaukee Institute of Art & Design foundations faculty member, is a print-maker. She mixes what she knows of screen-printing, collaging, three-dimensional objects and painting to create her work.
Buie's most recent work includes a 12 by 20-foot piece called "Still Lives," a feature piece at the Museum of Wisconsin Art until Nov. 2. The inspiration for this piece came from Buie's childhood memories of receiving toys from her aunt.
"I grew up in the foster care system; growing up without a traditional family inspired the basis of my artwork, and it informs a subject that I talk about," Buie said. "I had the best of times with my aunt because of the toys and the beautiful objects that created an escape for me."
The piece is a large painting that covers the entire wall and includes an interactive portion of a See n' Say toy. The four toys represent the four children she lived with as a child. Viewers are able to touch the art, pull the strings of the toys and interact with the artwork. Buie made the piece from children's toys and placed the parts at the eye-level of an adult.
"I made the piece at adult level so that parents could put their kids on their shoulders and teach the kids the story of the toy," Buie said. "The size also matters, as my goal was to make it a huge painting so it is overwhelming because it's higher than you, it's lower than you. It allows the viewer to embody himself or herself in the piece."
Buie uses reoccurring images like dolls throughout her work.
"I do a lot of recycling of images because of my background. When I find something, it becomes really precious to me, so I use it over and over again until I cannot stand it anymore," she said. "I can really do anything I put my mind to, despite my upbringing. We rely on our parents so much, and everyone seems to have it together, and I had to rely on my atmosphere to raise me. When I knew I had to do that, I did it 100 percent."
Buie's unveils her next site-specific project on Wednesday, Nov. 12 at 6 p.m. at the University of Wisconsin-Madison campus on State Street. It is in a window-front of Old Jack's Shoes, next door to Gap. The piece includes images of broken swing-sets merged together with a background of a park.
Buie will also be featured in a solo show in the spring of 2016 at the Hyde Park Art Center of Chicago. Buie continues her work and teaches at the Milwaukee Institute of Art & Design.
Buie works meticulously on her pieces and spoke of what art means to her.
"Art is a way for me to figure out my identity, who I am and how I still do things to this day," she said. "I want to bring people into the story, to get them involved, imagining themselves or thinking about a certain personal story."