'Social Cues' by Cage The Elephant is the Garage Pop Album of the Summer
Grammy award-winning group Cage The Elephant released their latest album, "Social Cues" April 19. "Social Cues" is packed with emotional rock 'n' roll and coming-of-age sensations. Frontman Matt Schultz uses his latest album to address the turmoil in his life. After going through an unfortunate divorce and losing two friends to suicide, Schultz decided to be optimistic rather than dwell on situations and circumstances.
After their 2017 Best Rock Album Grammy award, Cage The Elephant takes their time revealing their fifth album. The group is known for its perfectly fused relationship of alternative melodies and psyched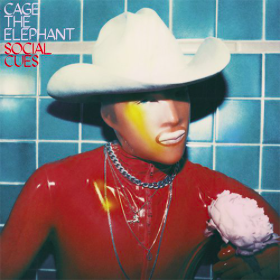 elic rock. "Social Cues" gives waves of angst and melodrama. Ballads like "Love is the Only Way" demonstrate these tender emotions. Schultz takes a moment to reflect on his experiences and mistakes made. In contrast, songs like "Skin and Bones" display the glam rock that Cage The Elephant fans fall helplessly in love with. Bluesy hits like "The War is Over" will have you tapping your feet to the steady beat.
Schultz leaves his audience full of emotion in his final song "Goodbye." The song tugs at heartstrings as Schultz sings about his acceptance on ending relationships. In a Beats 1 interview, Schultz stated, "I actually see it as an uplifting song, but I find it really interesting that sometimes when we're confronted with such profound truth we interpret it as darkness." Schultz continued, "I think the most obvious challenge is trying to find something within the music that reignites that excitement, that passion, that excitement for music again."
All of "Social Cues" is a perfect garage pop mix, but here are a few songs that I'm hooked on:
"Broken Boy": As the first song on the album, this punk hit is sure to catch your attention. The intro demonstrates the classic grunge texture that will have you hooked for the rest of the album.

"Social Cues": Similar to their previous hits, "Social Cues" is bound to be a Cage The Elephant fan favorite. With classic psychedelic melodies and a powerful beat, it's no wonder the album is titled after the song.

"Night Running": A personal favorite of mine, "Night Running" is a  unique reggae-rock fusion. With lyrical assistance from artist Beck, this song is sure to be your on your poolside playlist for this summer.
To learn more about the album or listen yourself, "Social Cues" can be found on Spotify, Apple Music, YouTube, and on Cage The Elephant's website.
Leave a Comment