First Lady Michelle Obama visits Milwaukee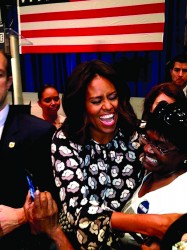 A buzzing crowd filled the Wisconsin Center for the chance to hear First Lady Michelle Obama speak during a visit to support Democratic governor candidate Mary Burke Monday.
"Why wouldn't I be here? Why wouldn't I come here for this amazing woman?" Obama said during her address.
Obama's visit comes at the same time that New Jersey Gov. Chris Christie arrived in Wisconsin to help campaign for incumbent Gov. Scott Walker. The two GOP leaders visited businesses in Hudson, Wis., Monday afternoon, the Milwaukee Journal Sentinel reported.
Both visits from Obama and Christie underscore a neck-and-neck race between the Wisconsin governor candidates, which is heating up for the final month before the election in November. The latest Marquette Law Poll released Sept. 17. shows both candidates statistically tied at 46 percent of registered voters.
U.S. Congresswoman Gwen Moore (D-Wis.) was also present at the Milwaukee event, where she spoke about being on "a battlefield of history to determine who's going to write history."
Moore said she wants that history to have voting, education, the environment and her personal rights "protected."
After much anticipation, Mary Burke stepped on stage and was received by a roaring crowd.
"It doesn't matter where the ideas come from, if they are Democratic or Republican, just as long as we get results," Burke said.
Obama said her support for Burke doesn't just come from them both being members of the Democratic party, but because Burke puts children first and understands how to create jobs and get the people trained for them.
"That's the kind of leadership you deserve, which is why we need to support (Burke)," Obama said.
In addition, Obama drew comparisons between Burke and President Barack Obama, who visited Milwaukee in August for Labor Day. The first lady noted that when the president first took office in 2009, the United States economy was in shambles, pulling a comparison and claiming that today's Wisconsin economy is in worse off conditions.
Obama also spoke about how difficult it was for her husband to become the first black president, and that Burke would be the first female Wisconsin governor if elected.
"If you are willing to work for (the American dream), they should have every opportunity to fulfill their dreams," Obama said about Wisconsin children. "That hard work, education and the safety of our future is what we strive for and what this election is all about."
Both Burke and Obama reiterated how "a candidate is only as good as the people who are standing there with them."
In the 2010 Wisconsin gubernatorial election, there was a 62,000 vote deficit, and analysts predict this year's election might be just as close. Obama urged younger audience members to be social media savvy before election time and share Burke's message on online platforms.
Leave a Comment