Former President Clinton campaigns for Burke in MKE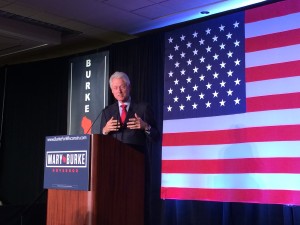 Former President Bill Clinton visited Milwaukee to support Democratic gubernatorial candidate Mary Burke at the Hyatt Regency Hotel on Friday, focusing his speech on job growth.
Clinton spoke about the 2008 job crisis in his speech, claiming the rest of the United States regained those jobs, while Wisconsin still falls behind. Clinton said Wisconsin is one of the few states that has fewer jobs than it did six years ago.
"You want a governor who will get you more jobs, and you want a governor who will get you better paying jobs," Clinton said about Burke.
Clinton stressed the importance of job growth, saying Burke has the business and economic experience the state needs to get back on track.
Burke said she plans on raising the minimum wage, by an unspecified amount, if she is elected to office. She criticized current Wisconsin Gov. Scott Walker and his stance against raising the minimum wage.
"I am a business person, our economy grows when everyone has a fair shot to get ahead," Burke said during her speech. "People deserve decent pay for a hard day's work."
According to the latest Marquette Law Poll released Oct. 15, Burke is tied with Walker, both polling at 47 percent with likely voters. The final Marquette Law Poll will be released Wednesday Oct. 29, the same day President Barack Obama will visit Milwaukee to campaign for Burke.
Also present at the event was U.S. Congresswoman Gwen Moore (D-Wisc.), who also spoke about state job growth. Moore said she was "outraged" that Walker doesn't recognize a lack of employment.
"He says that there is no job problem, and he doesn't see the purpose of a minimum wage," Moore said about Walker.
Clinton rallied locals by asking them to get out on election day and cast their ballots. He said it isn't good enough to vote against something, but instead to vote for something. 

"If you look at who's best qualified to do that, this is not a hard decision," Clinton said.
Burke called on her supporters to "dig a little deeper," and continue campaigning for her in the last few days of the election, urging them to canvas before voting on election day Nov. 4.
First Lady Michelle Obama campaigned with Burke in Milwaukee last month. Walker received support from New Jersey Gov. Chris Christie, who is expected to make another trip to Milwaukee in support of the incumbent governor.
Leave a Comment