MUSG presidential and EVP candidates profiles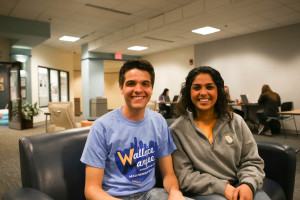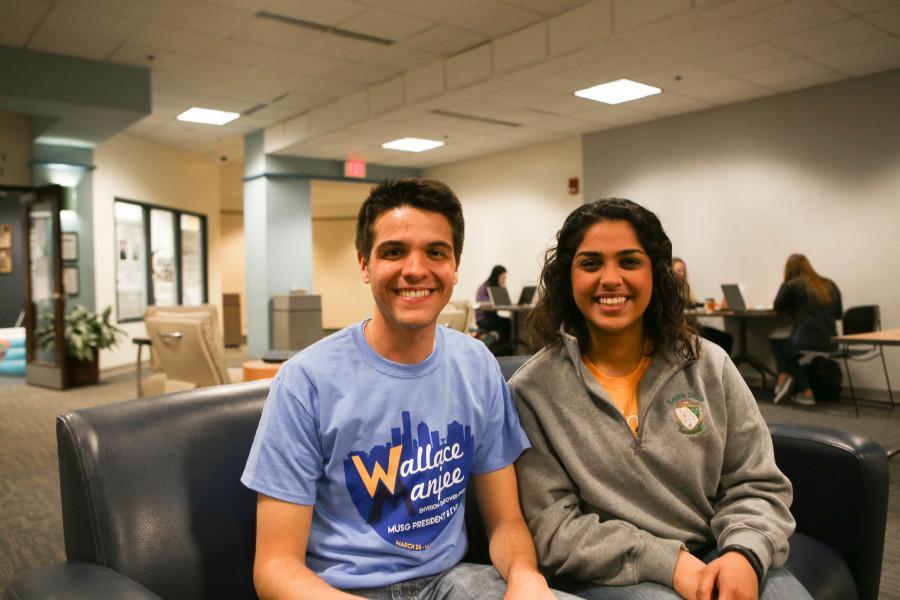 TICKET 1
Zachary Wallace (Presidential candidate)
Experience: Legislative Vice President, created MUSG's Community Engagement Committee; formerly served as chair of the Academics Committee and worked with the Student Organization Fund and Budget Committee; participates in running club; interned in the office of Mayor Tom Barrett
Favorite Milwaukee restaurant: Daddy's Soul Food and Grill
Who will win March Madness: "Since Marquette didn't make the tournament, I didn't really make a bracket."
Aliya Manjee (EVP candidate)
Experience: President pro tempore for two years; served on Student Organization Fund Committee and the ad-hoc committee that internally reviewed the Student Organization Funding process; chair of Marquette College Democrats (formerly vice chair); interned in the office of Mayor Tom Barrett; taught religious classes for two years
Favorite Milwaukee restaurant: Comet Cafe
Who will win  March Madness: University of Wisconsin-Madison
What does your platform look like summarized into three points?
Zachary Wallace and Aliya Manjee said their platform will focus mainly on community engagement in the Avenues West Neighborhood, support for student organizations, and health and wellness among the Marquette community.
As the head of the Neighborhood Excellence Committee, Wallace said both he and Manjee have concentrated their efforts to engaging students with the surrounding neighborhood.
"It is really important, student voice is really strong, we are only here for four or five years," Wallace said. "We have the ability to make positive change in our neighborhood and we haven't really been at the table."
Manjee said working in the community benefits students on multiple fronts. Manjee said one goal includes expanding the core curriculum to include a service learning aspect.
"If students engage in the community it will help build the climate at Marquette and make it more diverse and inclusive," Manjee said. "We really feel engaging with our community will help develop Marquette students."
How to expand what MUSG has done this year?
Wallace said he would like to financially support the the Committee of Diversity, Social Justice and Inclusion. Wallace explained that he wants to support the committee while allowing them to be independent.
"I think one of the things that gives them so much traction is that they keep reiterating that while they work with MUSG, they are their own body," Manjee said.
Wallace also described Student Organization Funding as one of the most important things MUSG does. Manjee explained that it allows student to do what they are passionate about.
"With these changes, they are pretty historic and large, we need someone who knows the ins and outs of it to make sure it is as affective and efficient as possible," Wallace said.
Manjee said one of her goals is to focus on what students can fund, instead of what they cannot. Manjee said her and Wallace plan to hold weekly Student Organizations Funding workshops with student organizations to help them understand how to fill out the application and ask questions about the process to ensure understanding
Why should I vote for you?
"If you take a look at what we have done in MUSG, it really reflects what out platform is," Wallace said.
"That shows we are committed to making these changes and helping students," Manjee added.
Wallace said his hope is to enhance the Marquette experience by giving students the opportunity to build connections on and off campus.
"What you get from community engagement and community building can help bring success even after college," Wallace said.
—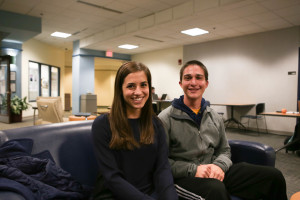 TICKET 2
Julia Markun (Presidential candidate)
Experience: MUSG public relations director; former senator both freshman and sophomore year; served on Student Organization Funding committee; takes part in MU Dance Team and Public Relations Student Society at Marquette; member of Sigma Delta Pi and Kappa Delta
Favorite Milwaukee restaurant: Wings Over Milwaukee
Who will win March Madness: Deferred to Krajewski
Ricky Krajewski (EVP candidate)
Experience: part of MUSG for two years; chair of the Academics committee; Marquette Wind Ensemble and pep band; served on the Student Health Advisory Board, Carpenter and Schroeder Hall Councils and the All University Core Curriculum Review committee.
Favorite Milwaukee restaurant: Anywhere in the Third Ward, especially Rodizio
Who will win  March Madness: University of Kentucky
What does your platform look like summarized into three points? 
Outreach and accessibility
Experience while at Marquette University
Experience after Marquette University
Markun and Krajewski said outreach and accessibility are crucial in their plan, noting MUSG needs to expand past the office and be more visible in the Marquette community. Markun said she is concerned students don't know what MUSG does or how it can help students.
"I don't think students should have to come into the office to have their concerns addressed," Markun said.  "I want us to get out and be more visible on campus, proactively addressing concerns."
Krajewski said making sure every aspect of Marquette: student organizations, academics and campus life are also important to their platform. He added the experience after graduation is important as well.
"After Marquette, your life doesn't stop," Krajewski said. "We want to set everyone up in a great position to succeed after college and take advantage of the resources we have available."
How to expand what MUSG has done this year?
Krajewski said he has been working to meeting with the newly appointed Coordinator of Diversity, Social Justice and Inclusion to see where they would like to take the new position.
"As EVP, I would be working with that committee I would want to know what direction the current committee is taking it," Krajewski said. "I wouldn't just want to take it a completely separate direction, I want to make sure it has a lot of effort going toward it."
Concerning student organization funding, Krajewski said his main focus is continuing education and communication on the process over the summer.
"We want to institute specific types of training because not every student org is applying for the same type of event," Krajewski said. "We want to make sure every student organization is applying the right way."
Why should I vote for you?
Krajewski said their involvement around campus and outreach plan lets them stand above the competition.
"The more things you have been involved in shows the amount of students you have interacted with," Krajewski said. "And the more students you have interacted with counts for a different kind of experience than one or two leadership roles."
Markun added that her ticket is not "all about politics," but instead is about a more well-rounded student experience and preparation for life after MU.
"That is why students come here,"Markun said. "You are here to get the skills you need to be successful after school."
—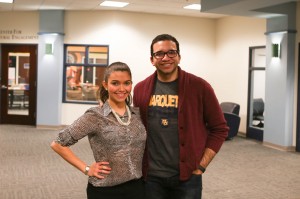 TICKET 3
Estephania Elizondo (Presidential candidate)
Experience: Serves as senator and chair of the Student Life Committee; involved with Hispanic Professional of Greater Milwaukee and Student Alumni Ambassadors
Favorite Milwaukee restaurant: Calderone Club
Who will win March Madness: "All of my friends have told me to choose Kentucky."
Daniel Bernard (EVP candidate)
Experience: Served on Hall Council; Emmaus mentor working with high school students; executive director and chairman of College Republicans; resident assistant; program assistant for Freshman Frontier Program
Favorite Milwaukee restaurant: "The Ambassador has an all you can eat brunch that will blow your mind."
Who will win  March Madness: "I make brackets for primary elections."
What is your platform look like summarized into three points? 
Diversity
Safety
Student Organization Funding
Elizondo said diversity is the most important point on their platform. Bernard added that the primary focus would be to support the Coordinator of Diversity, Social Justice & Inclusion as well as addressing problems with LIMO drivers only checking the IDs of minority students.
Daniel said their goal is to ensure that every student is asked to show their ID upon entering a LIMO. Elizondo said showing IDs is already a LIMO policy, and her goal is to hold them to that.
"I can't imagine what that would feel like to those students," Bernard said. "It is a gross concern that shows the lack of inclusivity on campus."
Elizondo explained their safety programs focus on creating a LIMO tracking app and including student voice in every step of the DPS commissioning process. She added her goals for Student Organization Funding are to increase amounts available for student organizations.
How to expand what MUSG has done this year? 
Elizondo said her ticket stands behind the Committee for Diversity, Social Justice and Inclusion and wants to fund their projects and support them in any way possible.
"We want to partner with them and help open the doors to administrators and have those projects come to fruition," Elizondo said.
For student organization funding, Elizondo and Bernard said they want to make fund more accessible, increase the funds available and speed up the reimbursement process.
"We want to increase (Student Organization Funding) by matching it with the programs budget," Elizondo said. "Then we can have great programing and events that students want to see."
Why should I vote for you?
Elizondo said her ticket has an action plan to reach every goal on their platform. She also said her ticket has experience and knowledge, but just needs an opportunity to make change.
"We will put up the fight to put the student voice on the table and take actions on the issues that students want us to take action on," she said.
Bernard said as a resident assistant on campus, he has served as an outlet for student concerns and would like to join MUSG to continue that. Bernard noted their ticket is the only one with an outsider of MUSG, allowing them to analyze the organization from a different perspective and avoid "groupthink."
"It is really difficult to critically look at an institution when you have been apart of it for so long," Bernard said.
"Having Daniel as an outsider is the biggest asset that we bring," Elizondo said.
Leave a Comment