Dining with the stars
Having the secret service pay a visit to his restaurant is not that out of the ordinary for Peter Pitch, owner of Miss Katie's Diner.
In Pitch's 31 years as owner, he has seen Bill Clinton, German Chancellor Helmut Kohl, Hillary Clinton, Michelle Obama and President Donald Trump walk through the diner's doors. Surprisingly, Pitch didn't receive any official warning before these special patrons showed up.
"The secret service was here before each visit, but they have you brainwashed into thinking they won't come," Pitch said. "It's still weird though. They have a way of dealing with people to convince you that it's not going to happen, saying they (the politicians) probably won't have time, that there are a lot of other restaurants on the list or something along those lines."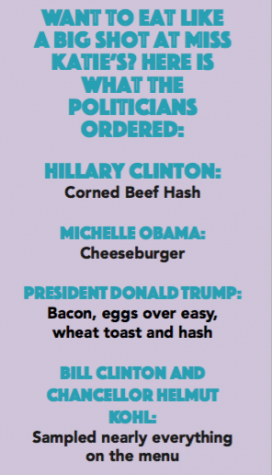 The largest security staff was for Bill Clinton and Chancellor Kohl's visit. Guards were positioned inside and outside the building, on the roof and in the kitchen and cooler. Pitch chuckled as he recalled mistakenly thinking there was a fire during this visit, when in reality 12 of the German secret security guards were just smoking in the corner of the restaurant.
"After they visit, you are busy forever," Pitch said. "But while they are here it is mass confusion, especially if they bring the media with them."
From a security standpoint, Miss Katie's is easy to secure because a helicopter could easily land in the middle of the street if an emergency were to happen. Pitch believes Miss Katie's old-fashioned atmosphere has helped attract so many big-name celebrities.
"They like the diner atmosphere where they are able to blend in with real Milwaukeeans," Pitch said. "If they want to get a pulse on the general public, this is the place to come."