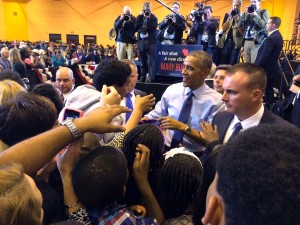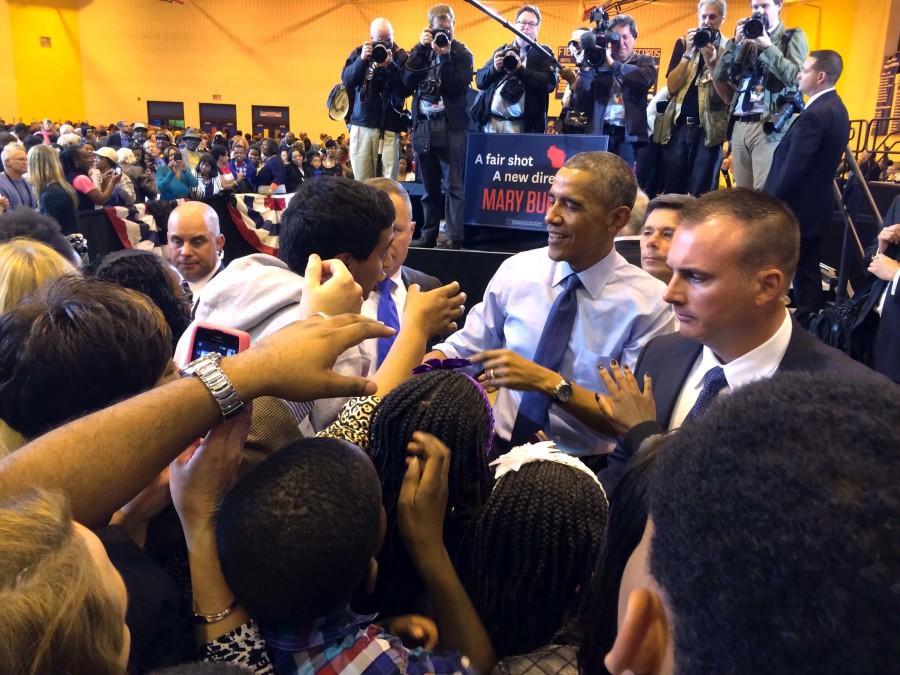 President Barack Obama spoke at Milwaukee's inner-city North Division High School Tuesday as a final push of  support for Mary Burke in the Nov. governor election.
Around 3,500 people crowded into the school's gymnasium to hear Obama encourage them to vote. The president focused on job growth and criticized the job performance of Burke's opponent, incumbent Gov. Scott Walker.
"Wisconsin lags the rest of the country," Obama said at the event. "The country as a whole is doing better. Wisconsin is not doing so good.  Over the next week, you have the chance to change that."
Obama also put emphasis on expanding the middle class.
"Prosperity happens when you give people more chances to work their way into the middle class," Obama said.
Burke, who is running in a close race against Walker, proposed raising the minimum wage during her five-minute introduction for the president. She said raising the minimum wage would "reduce the tax burden on those being squeezed."
Obama stressed Burke's business background as founder of the Trek Bicycle Corporation, which he said makes her an ideal candidate who will have the ability to help promote small business growth.
Obama and Burke also took turns focusing on education, specifically making a college education more affordable.
"We're going to help you go to a good school, we're going to make sure you can afford college," Obama said.
Democratic candidate for Attorney General Susan Happ, Milwaukee County Executive Chris Abele, Mayor Tom Barrett and Rep. Gwen Moore (D-Wis). Moore, a North Division alumna, delivered a fiery speech attacking Walker for supporting "special interests and big corporations with tax breaks."
"This race is not going to be decided by multi-billionaires, it's going to be decided by you," Moore said.
Obama is the latest national figures coming to stump for Burke, following up on visits over the past couple of weeks from First Lady Michelle Obama and former President Bill Clinton. Walker received support from New Jersey Gov. Chris Christie and is campaigning alongside Rep. Paul Ryan (R-Wis).
The latest Marquette Law Poll released Wednesday shows Walker leading Burke by 7 percentage points among likely voters. The previous poll, released Oct. 17, showed the two of them tied at 47 percent of likely voters.
Obama said the race is going to be close, saying as few as ten votes could decide who will be the governor of Wisconsin.
Story continues below advertisement