County Executive candidates debate at Law School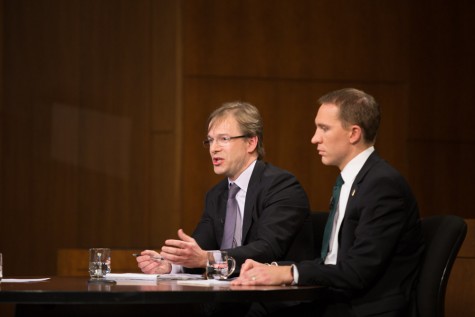 The Marquette Law School hosted a County Executive debate March 9 between candidates Chris Abele and Chris Larson, who faced off on issues including sales tax and loyality to Gov. Scott Walker.
Television journalist and law school fellow Mike Gousha hosted and moderated the debate. It primarily focused on the Mitchell Park Conversatory Domes' indefinite closing, the controversial new Milwaukee Bucks arena and increasing the county sales tax. The election to choose who wins is April 5.
The race is close, with the candidates separated by 700 votes in the February primary. Both candidates are Democrats but Chris Abele is known to lean Republican.
"I know my politics confuse people," Abele said. "I have no hesitation working with anybody I can – Republican or Democrat – to move the county forward."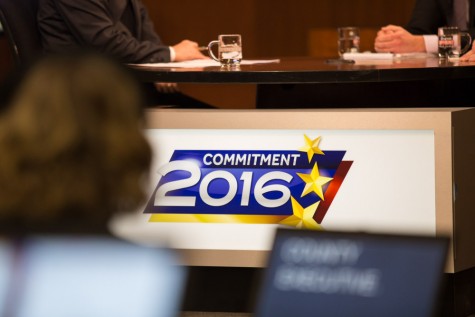 Larson repeatedly called Abele a "power-grabber" in reference to the Bucks arena that was green-lighted last year. He criticized Abele for selling the land for a dollar per 10 acres and accused him of making the decision single handedly.
"I wished he would have listened to the representatives and senators who said this deal doesn't add up," Larson said. "Don't put it on the backs of people who are struggling to pay their bills."
Abele pointed out the new arena location has been empty for years. Since he signed off on the arena, five projects in last five months have begun.
Larson said Abele engages in "Walker gimmicks" and claims to lower taxes and cut deficits, when in reality, he raises property taxes.
A 1 percent sales tax to reduce property tax and pay for services like public transit is what Larson is proposing. He said the tax will help those living below the poverty line. He said the tax will not be a burden on those living below the poverty because it will not be on essential living expenses such as rent, grocery, gas and medicine.
Abele said the sales tax does not make sense from an economic standpoint. He mentioned the tax would still be on things like school supplies and school uniforms. Therefore, it would be a burden on impoverished families with children.
The candidates also had conflicting ideas about the keeping the domes. Larson was in favor of repairing them, whereas Abele expressed hesitancy.
Abele said the domes have had issues for 30 years, and the repairs will only become more frequent. He said he wants to look forward but will salvage them if that's what the public wants.
Larson called Abele's estimates inflated. He claimed that the people of Milwaukee support keeping the domes.
"It's a symbol of Milwaukee," Larson said. "We have to do what we can."
Leave a Comment