Lovell receives, gives praise in inauguration
At the inauguration ceremony for University President Michael Lovell, Harvey Borovetz, a University of Pittsburgh professor, gave a speech about his colleague, who was installed as Marquette's 24th president Friday.
"You can judge a professor's commitment to teaching excellence by what he or she does in the classroom," Borovetz said about Lovell's time as a professor at Pittsburgh.
Shortly after Borovetz's speech, Lovell gave his inaugural address in a fashion reminiscent to his time as a professor. Instead of standing still behind a podium, he walked back and forth across the stage while clicking through a power point.
Borovetz was one of many who praised Lovell as the university came together in the Al McGuire Center for the ceremony, themed "Ignited in Faith. Alive in Inquiry. Forward in Service." Lovell is the 24th university president and first layperson to hold the title. He is replacing former University President the Rev. Scott Pilarz, who left the position in Sept. 2013.
Among the ceremony attendees was Gov. Scott Walker, who gave a speech and declared Sept. 19 to  be the official "Michael Lovell Day" in Wisconsin.
"(Lovell) leads by example and helps others find a calling," Walker said. The governor also thanked the Rev. Robert Wild, who served as university president from 1996-2011, and then again from 2013-2014 on an interim basis after Pilarz left the university.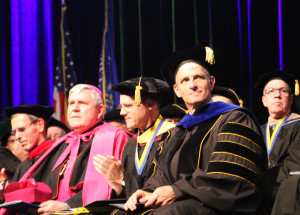 The ceremony opened with a video of Lovell, an avid runner, getting up for a morning run through downtown Milwaukee and Marquette's campus. Many students attended the ceremony wearing gold inauguration T-shirts provided by Marquette Student Government, and the center was mostly filled.
Milwaukee Mayor Tom Barrett was another guest who spoke. He said he was "delighted" with the presidential hire since he already had a partnership with Lovell, who was the University of Wisconsin-Milwaukee chancellor before coming to Marquette.
Speakers praised Lovell's engagement with students, including his new running group, dining hall dinners and Saturday's inaugural ball.
John Ferraro, chair of the University Board of Trustees, gave a brief address before Lovell was formally introduced as university president.

"Mike Lovell was our first and clear choice," Ferraro said. "He is an enthusiastic proponent of Jesuit education. You can't help but feel that this is Marquette's moment. Our moment."
Lovell was then dressed in the official presidential regalia robe and adorned with the chain of office. With one hand on Lovell's shoulder, Wild handed him the Marquette mace as the final act of installation.
"Today you've heard a lot about me, but now I want to remind you what this institution stands for," Lovell said to begin his inaugural address.
His power point contained slides and a video about his wife Amy and their four children. Their eldest child, Marissa, attends Marquette as a sophomore in the College of Health Sciences.
"She's more than just my wife – she's my soul mate," Lovell said. "She makes up for my deficiencies – and I have many. I couldn't be prouder to have (Amy) side by side with me as we take on this journey."
One slide was dedicated to Lovell's late parents, and he thanked them for the traits they instilled in him, including a dedication to the Catholic faith. Lovell also paid tribute to  James Foley, the late alumnus killed by the Islamic State in August. He said Foley's memorial service was the "most powerful experience" he had while at the university.
"Something happens every day that lets me know that I have made the right choice," Lovell said about coming to Marquette.
To conclude his inaugural address, Lovell announced a campus expansion covering part of  the 800 block of W. Michigan St., in addition to five new university initiatives. 
The ceremony was followed by a reception at the Helfaer Recreation Center.
Podcast: Play in new window | Download
Leave a Comment