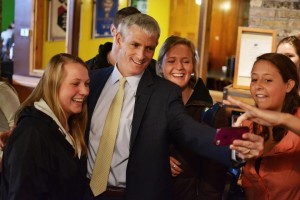 Michael Lovell began his full-time presidential role Tuesday as the university's 24th president and first lay president, replacing interim University President the Rev. Robert A. Wild.
Lovell's official inauguration will be Sept. 19.
Lovell was originally supposed to begin his term Aug. 1, but the date was moved to July 1 when the University of Wisconsin-Milwaukee found an interim chancellor, Mark Mone, to replace Lovell. Lovell was previously planning to remain at UWM until August.
During the month of June, Lovell worked closely with Wild to begin the transition process to his presidency. Wild will continue to work part-time in University Advancement to fundraise and maintain his relationships with alumni and friends of the university.
"It was a great benefit both to the university and to Dr. Lovell to have this opportunity to spend a little more time with Fr. Wild before the school year starts and everyone got so busy," said Andy Brodzeller, associate director of university communication.
"They did have a number of days here on campus where they were both in the office and on those days they tried to spend at least an hour with each other," he continued. "Largely those meetings were Fr. Wild just giving some background information and history to Dr. Lovell so that he is aware of some of the context and some of the things around the topics that he will likely be hearing about as he gets settled in on campus."
Some of the topics Lovell and Wild discussed included the history of building projects on Wisconsin Avenue, background information on the strategic plan and student concerns such as updating recreational and residence hall spaces.
In addition to reviewing university matters, Lovell is taking time to educate himself on the pedagogy of the Jesuit community. During an exclusive interview with the Tribune in March, he said this would help him "lead the institution in the way that it was meant to be led."
To accomplish this, Lovell attended a mass at the Joan of Arc Chapel and read "He Leadith Me" by the Rev. Walter J. Ciszek, a Jesuit captured by the Russian army during World War II and convicted of being a Vatican spy. He also met with Stephanie Russell, the vice president for mission and ministry at Marquette, to discuss Jesuit history and philosophy, and he plans to meet with her again in the fall.
Lovell would not have been able to be president at Marquette before 2011 because of a bylaw forbidding a layperson from holding the position. However, the bylaw was revised after former University President the Rev. Scott Pilarz was hired, opening the door for Lovell to become Marquette's first lay president.
Out of the 28 Jesuit schools in the U.S., Marquette is the 10th to have a lay president, and Lovell, a member of the Holy Family Parish in Whitefish Bay, embraces the switch to a private, Jesuit university.
"(Being able to practice my faith in my job) was the biggest factor," Lovell said. "Some of the other things that were appealing to me is at a private university, it is a little bit easier to work out your vision because you have more flexibility."
One of the main priorities Lovell will need to work into that vision is filling leadership vacancies, and Brodzeller said Lovell is already working to fill positions.
The provost search will run about four weeks ahead of the business dean search so the new provost can be involved in hiring the dean. The athletic director search will begin this summer, and a hire is anticipated by the end of fall semester.
Lovell also plans to meet with faculty, staff, alumni and students before his inauguration this fall. He already attended an alumni event in Chicago with Wild two weeks ago where he met with some 70-80 alumni.
"Lovell will take the opportunities to learn a little bit more about the Jesuit history and meeting with leaders and faculty and staff in addition to students on campus" Brodzeller says. "He'll also do some alumni events. He will be here on campus for alumni weekend at the end of July and he'll plan on participating and or meeting with incoming students on move in day in August."
Lovell was elected unanimously in March by Marquette's Board of Trustees, which concluded a nearly six-month search. The search was a result of Pilarz vacating the position in September.
Using a position description consisting of experience, a commitment to fundraising and finding a permanent provost, the board determined Lovell was the most qualified in a pool of more than 1,200 prospective candidates.
Lovell initially declined the offer because of his dedication to UWM. After some time though, he said he realized where he was being called.
"Over time, I realized that this is something I was being called to do," Lovell said. "I love UWM. I have tremendous respect for the people that are there. The hardest part is leaving them and feeling in some respects like I've let them down. But this is a great university, and it's going to continue to do great things."