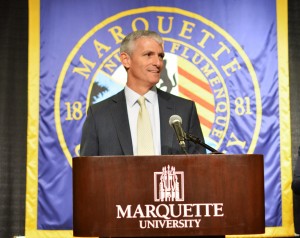 When Michael Lovell, university president-elect and chancellor of the University of Wisconsin-Milwaukee, was introduced to the Marquette community Wednesday, members of the board of trustees gave him a strong endorsement.
Professional Biography:
-UWM Chancellor 2011-2014
-Dean of UWM College of Engineering & Applied Science 2008-2011
-Associate dean for research at the University of Pittsburgh's School of Engineering 2003-2008
-Professor at the University of Pittsburgh 2000-2003
-Professor at the University of Kentucky 1996-2000
-B.A. in Mechanical Engineering in 1989, M.A. in 1991, PhD in 1994, all from the University of Pittsburgh
"I'm really convinced we have something that is the closest thing, in Mike Lovell, to Superman as possible," said John Ferraro, chairman of the Presidential Search Committee and member of the board of trustees, to an audience in the Alumni Memorial Union.
Lovell, who made his introductory statements on campus just hours after his hiring was announced by the board of trustees, is set to become the 24th president of Marquette in August, making him the university's first lay president in its 133-year history.
"If you told us that when we started this search six months ago, that we would find someone who was a chief executive, a researcher, a scholar and a leader all in one person, I didn't think it would necessarily be possible," said Charles Swoboda, chairman of the board of trustees. "But we did, and I am proud and confident that we have found the person who will lead Marquette into its next chapter in its storied history."
Lovell said he never imagined becoming Marquette's president, in part because the university bylaws were not amended to allow laypeople for the job until 2011. He told the audience, however, the chance to implement his Catholic faith in his professional life ultimately attracted him to the job.
"If you're open to God and you follow his path other than your own he will take you to remarkable places, and that's why I stand before you today," Lovell said.
He reiterated his position in a letter to the UWM community explaining his departure.
"Several months ago, when I was approached by Marquette about its presidency,  I declined because I could not imagine leaving UWM at that time," Lovell said in the letter. "But in recent weeks, as several people asked me to keep an open mind, I began to hear a calling to serve at an institution where I could more openly share my Catholic faith."
Lovell will have a lot on his plate immediately because of other vacant leadership positions, including provost, athletic director, dean of the College of Business Administration, Department of Public Safety chief, men's basketball coach and dean of undergraduate admissions and enrollment planning. He will be tasked in the fall with finding permanent hires for the open academic leadership positions, and will be part of the current discussion to find a new men's basketball coach.
"I want to get up to speed on potential candidates (for the men's basketball coach), as I read there's a great pool out there," Lovell said. "I'll tell you one thing — we should get somebody who will be a successful basketball coach on the court, but also fits the values at Marquette and in the Jesuit community."
Lovell started serving as chancellor of UWM in 2011, previously serving as the school's College of Engineering & Applied Science dean. Before UWM, he served as associate dean for research at the University of Pittsburgh's School of Engineering for five years, and was a faculty member at Pittsburgh and the University of Kentucky.
In just under three years as chancellor, UWM credits Lovell with pushing forward several university construction initiatives and strengthening partnerships with many Milwaukee-area corporations.
Kelly Kloth, a UWM senior, said she worked with him directly on a chancellor's scholarship and is sad to see him leave for Marquette.
"It's really sad that he's leaving," Kloth said. "I guess it really hurts that he's leaving for a school in the same city and leaving for a school UWM sees as kind of a friendly rival in Marquette. So it's sad, but he's going to be amazing, I'm sure."
Lovell noted that leaving the people at UWM was the "hardest part" about accepting this new job, and that nothing at the public university motivated him to want to leave.
Kloth also added that she appreciated his efforts to meet students, something Lovell said he plans to continue with office hours for students at Marquette.
"If I don't know about problems, I can't fix them, so one of the things that's important to me is making sure I interact with the students, so that I can make this a better campus for them," Lovell said.
The hire completes a nearly six-month search by the Presidential Search Committee, which formed in October after the resignation of former University President the Rev. Scott Pilarz was announced in September. Interim University President the Rev. Robert A. Wild will remain in office until Aug. 1, when Lovell assumes the position.
With the hire, Marquette will also become the eighth school of the 28 schools in the Association of Jesuit Colleges and Universities to have a layperson as president. In addition, 63 percent of the 194 U.S. Catholic colleges that belong to the Association of Catholic Colleges and Universities are led by laypeople.
Lovell is embracing the role and its challenges.
"After hours of meditation and many sleepless nights, it became clear to me that I was being called to Milwaukee six years ago to be Marquette's first layperson, and it was the plan that God had laid out for me," Lovell said. "And I'm just really glad I followed it."
Story continues below advertisement