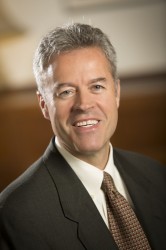 The University of Wisconsin System announced Monday that Mark Mone, interim chancellor at UW-Milwaukee, will permanently be filling the UWM chancellor position left by Marquette University President Michael Lovell.
"I am honored and privileged to serve our students, faculty and staff, community, and UW System in this role," Mone said in a prepared statement. "I look forward to working with our leadership to build on our past accomplishments, knowing that even greater things are ahead for this campus and community."
Mone, who will step into the leadership post immediately, has been a member of the UWM faculty since 1989, serving for more than 15 years as an associate dean at the Lubar School of Business. He is also a professor of management in the school and has served for the past two years as the chancellor's designee for strategic planning and campus climate.
"Dr. Mone is an impressive educational leader and he is clearly enthusiastic about UW-Milwaukee and all of its strengths and potential," UW System President Ray Cross said in a news release.
Mone will be UWM's ninth chancellor, succeeding Lovell, who announced his resignation from UWM to become Marquette's president in March. Mone will earn $340,000 as chancellor, as approved by the Board of Regents in October 2013.