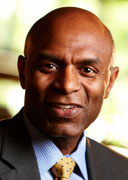 L. Christopher Miller, vice president for student affairs, resigned from his position to pursue business opportunities outside of higher education, the university announced Thursday.
Marya Leatherwood, assistant vice president for Student Affairs and Title IX coordinator, will take over Miller's role as an interim once he finishes at Marquette on May 5. Miller will be moving to Springfield, Illinois to pursue opportunities in the health care industry.
"While I'm excited to pursue other ventures outside of higher education, I will always treasure my time at Marquette, and I'm particularly grateful for having a campus community that's truly felt like a family," Miller said in a statement.
Miller joined Marquette in 2008 and has since led different initiatives, including university expansion efforts in auxiliary services and increasing student success in counseling, student leadership and recreational sports. He also helped develop the Title IX model and promoted changing the university Code of Conduct.
"In his time at Marquette, Chris made an indelible impression on student life and engagement, and he's been a champion for the entire Marquette community," Interim Provost Margaret Callahan said in the university news brief. "Most importantly, he has been an advocate for our students, always keeping their safety and wellbeing his number one priority. We really appreciate Chris' leadership and commitment to Jesuit higher education, and wish him all the best in his new role."
Leatherwood has been at Marquette since December 2011 and assisted with providing Title IX training to various groups on campus. She also served on strategic planning and enrollment management coordinating committees.