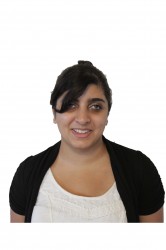 We can all recall a time where we felt uncomfortable. Many times these uncomfortable experiences are associated with first encounters. I know that I always feel uncomfortable the first time I meet someone. Being blind, I never know the facial expressions or body language of the other person, and I often cannot effectively gauge how to interact with them right away. I have accepted that these first meetings will always be uncomfortable but also gained the understanding that life goes on and I cannot spend my life not meeting new people.
We all can probably recall a time when we felt unsafe, but this may be one experience compared to the many different experiences that make us feel uncomfortable. I can honestly say that I have felt uncomfortable many times, but I have rarely felt truly unsafe.
Working in the service learning office, I often hear students say they feel unsafe going to certain service sites in Milwaukee either due to the site itself, or the way in which they have to get to the location, like taking the bus. This is a huge issue for many students simply because they have been told certain things about the types of people who take the bus, or the areas the bus must go through. Some students make assumptions based on experiences they have never even had. These students conceptualize taking the bus or walking to these areas as unsafe, rather than just plain uncomfortable.
Everyone is comfortable with the familiar. These are experiences we know and can relate to, while the unfamiliar can be uncomfortable. However, this does not necessarily mean we are unsafe in these situations.
The difference between safety and comfort was a main focus of a reflection session the Service Learning Program hosted last week. It was interesting to hear many students justify feeling unsafe while riding the bus in Milwaukee, to the point of avoiding it altogether, with the reasoning that they had been told to feel unsafe by members of the Marquette community.
They were confused and frustrated to be told about the danger of "unsafe" areas and then be required to get there through some form of "unsafe" transportation.
Being a service learning coordinator, it is extremely frustrating to hear this, because our goal is to make students push themselves out of their comfort zones, while maintaining their safety. With these mixed messages from different members of the Marquette community imparted on students, it makes me think Marquette should be more united in addressing this situation. As a Jesuit university, Marquette should send a clear message that the use of public transportation and going out into the city to attend service sites is a positive and enriching aspect of the Marquette experience.
While this may be an uncomfortable experience at first, it should not be mistaken for an unsafe experience. Students should not be afraid to venture out of their comfort zones, and they should not be discouraged by anyone to try the unfamiliar. In my experience, the most rewarding opportunities were those that were challenging and uncomfortable, only to  become familiar and comfortable in time.