Inauguration week activities kick off a new presidency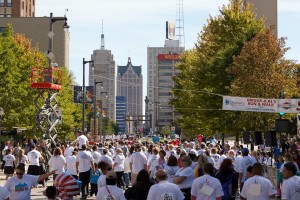 The start of a school year consistently brings new students, campus clubs and class schedules. This year, Marquette welcomes a new president, Dr. Michael Lovell, the university's first lay president.
In true Marquette form, the student government arranged a week of activities to give Lovell a proper presidential welcome. The festivities begin with the Briggs and Al's Run Sept. 13 at 10:30 a.m., followed by the Inaugural Ball at 8:00 p.m. in the Alumni Memorial Union. Students, faculty and alumni can enjoy refreshments, dance the night away and mingle with Marquette's president-elect.
The inauguration of President Lovell will take place 3:00 p.m. on Friday, Sept. 19 in the Al McGuire Center.  This event requires tickets, which can be picked up in Brooks Lounge or the Center for Leadership, Service and Involvement. There will be a reception to follow at the Helfaer Tennis Stadium and Recreation Center.
Daniel Klingelhoets, program board assistant in Marquette University Student Government, looks forward to an exciting week of activities.
"The inaugural ball will really be the kick-off celebration leading up to the inauguration of the 24th president," Klingelhoets said. "It will be an opportunity to come together with Dr. Lovell, faculty, staff and other students to celebrate."
Students can expect a DJ, a photobooth and time to talk with the new leader of the university for a portion of the evening. Not only will the experience be memorable for the student body, but it is also a great opportunity to dress up.
Ladies, find that dress buried in the back of your closet. It is time to ditch the leggings, throw on your favorite outfit and take photos with friends. Men can jazz up a casual, daily outfit with a bow tie, nice shoes and groomed hair.
For ladies not looking to splurge on a new dress, play closet roulette with roommates and friends. There is nothing better than sharing the clothes in your closet, mixing accessories and creating a brand new outfit with no cost. Luckily, this fall brings back the same trends as last year, namely leather, layers and statement necklaces. Guys can make an everyday t-shirt fancy with a structured blazer. It is an easy way to look good and feel comfortable at the same time.
Leave a Comment