MUSG treats students to the Tour de Chocolate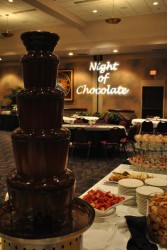 The annual Night of Chocolate is one of Marquette Student Government's most anticipated events. Traditionally, the Night of Chocolate was held in February as one of Marquette's biggest Valentine's Day activities, complete with chocolate binging and the holiday's ubiquitous pink boxes.
However, this year's installment moved to March, so MUSG put a different spin on everyone's favorite sugar fest. Marquette's first Tour de Chocolate will be held at 7 p.m. in the AMU Ballrooms Thursday.
Now distanced from Valentine's Day, this year might not be as romantic, but the Tour de Chocolate will feature various forms of the addictive treat from across the world.
The tour will feature chocolate from various countries including Belgium, France, Switzerland and the United States. Guests can expect other international treats like Swiss hot chocolate, Belgian waffles and crepes with Nutella. Some treats aren't so familiar to American palettes. One from India consists of a curry spice chocolate and from Australia, a chocolate truffle rice crispy ball.
"We were happy to move it away from (the traditional date in February), we had a lot of people say that they had other plans for Valentine's Day every year making it difficult to go to this," said Tyler Tucky, a junior in the College of Arts & Sciences and program vice president. "So this way, with it in March, we are giving people a separate option to an event they look forward to every year."
Making sure people are available to come is especially important because the event is one of MUSG's bigger events.
"Night of Chocolate is by far one of the largest events we throw each year," Tucky, a MUSG presidential candidate, said, "and it's one of the most expensive events we throw each year."
Organizers worked with a budget of $6,000 to cover catering and the publicity surrounding the event. With such a large price tag, the $5 entry fee is used to cover the operating expenses of the event.
Attendees were required to dress in formal attire for the Valentine's-themed event of past years. Although there is no dress code this year, grabbing your nicer threads is still recommended.
"We recommend dressing up," Tucky said. "We won't kick you out if you're not, but this is a fun event to dress up for."
Trevor Thiess, a senior in the College of Engineering, remembers getting halfheartedly dressed up to go the event his sophomore year and meeting his future girlfriend.
"Everyone got really dressed up for it," Thiess said, "and I went with like six girls and wanted to walk there. It was slightly snowing, but they were all wearing heels except for one girl who was wearing flats and agreed to walk over there with me."
It was a sign of things to come.
"We got there and there was all this chocolate everywhere," Thiess reminisced. "I was having a crazy time shoving huge amounts of chocolate into my mouth, but these girls were sitting there carefully eating it with forks and knives and I looked over and (the girl I walked over with) was also just using her hands to eat all of the chocolate. That's when I knew I was going to ask her out."
Like all good things, the idea for this year's Night of Chocolate theme was no individual person's brain child.
"We brainstormed as a program board to come up with a fun new idea for this year" said Mary Maruggi, a senior in the College of Arts & Sciences and MUSG programs commissioner.
The people supplying the chocolate were instrumental in the committee's decision to go with a Tour de Chocolate.
"It's an event that we do every year," Maruggi said. "It's a really fun event and we work closely with catering to get fun new ideas."
A little over a month since the last large chocolate holiday, this event is the ideal way for students to submit themselves to a little harmless indulgence on a Thursday night.
Tickets will be available at the door although those looking to avoid lines would be wise to purchase them ahead at the Brooks Lounge.
Leave a Comment