Students share favorite ways to show love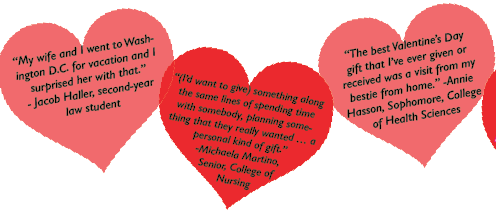 Nothing says Feb. 14 like colored hearts, cute candies and teddy bears the size of elephants. Whether students are out buying gifts for their sweethearts, spreading the love through service projects or receiving gifts from close friends and family, there won't be a lack of love this week.
In a series of on-the-spot interviews, students passing through the Alumni Memorial Union on Sunday shared their best stories and gift suggestions for Valentine's Day.
Khaleeq Sattaar El, a sophomore in the College of Communication, shared the best gift he's given to celebrate the holiday.
"To be honest, I've never actually received a Valentine's Day gift. I'm more of the giver type. In high school, I used Hershey's kisses, the cookies and cream (kind), and I put them all in a huge heart … (The recipient) loved it." he said.
Jacob Haller, a second-year law student, said, "My wife got me some bobbleheads, so it was a great gift. Then my wife and I went to Washington D.C. for vacation and I surprised her with that."
Brianne Lagtapon and Vincent Goh, sophomores in the College of Health Sciences and the College of Arts & Sciences respectively, said they are celebrating their first Valentine's Day together.
After Lagtapon shared that the best gift she has received was sharing the day with someone for the first time, Goh smiled and said, "I guess (the best gift I could give would be) my time."
Michaela Martino, a senior in the College of Nursing, said she believes that any gift, whether it's something material or simply your time, is always great as long as it comes from the heart.
"(I'd want to give) something along the same lines of spending time with somebody, planning something that they really wanted … a personal kind of gift."
Annie Hasson, a sophomore in the College of Health Sciences, said friendship was the best gift she received. "The best Valentine's Day gift that I've ever given or received was a visit from my bestie from home," Hasson said.
Marquette students and faculty enjoy this day as a time to spend with their significant others or a time to be unapologetically single. Whether it's self-love, love for others or both, one thing is certain: Marquette's campus is excited to check another successful Valentine's Day off the calendar.
Leave a Comment