Women's soccer woes continue during weekend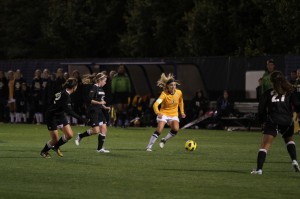 The Marquette women's soccer team continues to slide, as the team added two more in the loss column after falling to Wisconsin-Milwaukee 5-4 and No. 12 Texas A&M 3-0.
The Golden Eagles were outmatched early by the Panthers, as Wisconsin-Milwaukee jumped out to a 2-0 lead within the first 15 minutes of the Milwaukee Cup, and added another goal in the 30th minute to take a sizable 3-0 lead into halftime. Despite allowing another goal in the 62nd minute, Marquette showed some great resilience.
Marquette started to chip away at the lead when senior midfielder Mary Luba scored in the 69th minute. Freshman midfielder Caroline Fink added a goal in the 73rd minute, sophomore midfielder Liz Bartels in the 78th, and in the 85th minute, freshman midfielder Heather Handwork scored to tie the game at 4. Unfortunately for the blue and gold faithful, the Panthers scored again with just 90 seconds left to win the Milwaukee Cup 5-4.
After the heartbreaking loss, the Golden Eagles were forced to have short memories, as the team flew to College Station, Texas, to take on the Aggies.
Texas A&M was the better team on the field, but the Golden Eagles were able to hang around with the Aggies. Despite being outshot 13-3 in the first half, Marquette was able to enter the half tied at 0. Goalkeeper Amanda Engel made six saves in the first half, while the Golden Eagles only mustered one shot on goal.
During the second half, however, the Aggies turned it on and showed why they were ranked 12th in the nation.
Just seven minutes into the second half, Texas A&M got on the board when midfielder Allie Bailey shot the ball past Engel. The Aggies added a second in the 63rd minute when defender Leigh Edwards launched a shot from 25 yards out that found its way to the back of the net.
Texas A&M continued to press late in the second half, and Marquette committed a foul in the box to give midfielder Shea Groom a penalty kick. Groom converted the penalty kick for the Aggies, which gave them a 3-0 lead.
Golden Eagle and junior midfielder Jacie Jermier nearly put Marquette on the board when she put another solid free kick on net, but the Aggies were able to stop the shot and complete the shutout.
"This is a challenging place to play and for us to fight as hard as we did, miss a couple of chances and then get punished by a couple nice plays and finishes, we can't hang our heads too low," coach Markus Roeders told GoMarquette.com.
Marquette heads back to the friendly confines of Valley Fields when it hosts Kansas in the first of four straight home matches, spanning two weekends. Kickoff against the Jayhawks is at 7 p.m.
"Coming home and playing at Valley Fields over the next two weekends is something to be excited about," Roeders said to GoMarquette.com. "We learned and got better (Sunday) and can't fault our team one bit."
Leave a Comment