Volleyball sweeps American, falls just short against No. 8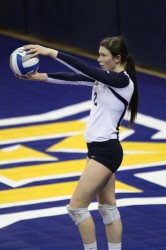 Facing stiff competition for the second straight weekend, the Marquette women's volleyball team barely missed out on a 2-0 weekend at the American Volleyball Classic after sweeping American Friday and losing a tight five-set match to No. 8 Florida State.
"I thought we had some really good signs of high-level play," coach Ryan Theis said of the weekend. "We scored in a lot of different areas along the net. We had different players step up at different times."
The Golden Eagles started the weekend in fine fashion by rolling into the home gym of American, the team receiving the most votes outside the AVCA Top 25, and sweeping them 25-20, 25-19, 25-16. Sophomore outside hitter Autumn Bailey led the team with 15 kills and a .394 hitting percentage, while freshman setter Gabby Benda had a career-high 24 assists and sophomore libero Lauren Houg added 17 digs.
"We were having an OK practice week," said Bailey, who was named to the weekly Big East Honor Roll. "We were getting adjusted to school and practice at the same time. We wanted to make a change, and we decided to do that during the game."
Marquette was able to frustrate American early in the match with six first set blocks. The Golden Eagles finished with 10.5 blocks overall and outhit American .288 to .076.
"I don't know that they played their best," Theis said of American. "I thought we made them uncomfortable early and got under some players' skins."
Bailey emphasized the importance of the non-conference road win.
"We played smart and strong and overcame them," she said. "That was a big win for us."
Marquette then took on the highly-regarded Seminoles on Saturday for the tournament title. The teams battled back and forth, but in the end, Florida State came out on top in a five-set thriller (20-25, 25-19, 25-19, 25-27, 15-13).
"I'm really proud of our team for how we performed," Bailey said. "I think we could have done a little bit better during games two and three … we dug ourselves a hole. Other than that, we were able to play really well in the fourth set and the fifth set despite digging ourselves a hole again."
Theis also harped on the fifth set, when Marquette fell behind 5-1 before nearly coming back to win.
"I wish we could have the beginning of game five back against Florida State," Theis said. "I don't think you can make three or four errors early against a team of that caliber."
Bailey led the team again with 17 kills, while Benda and redshirt sophomore setter Mary Nilles split 50 kills 27-23, respectively. Sophomore outside hitter Nele Barber, seeing more time with junior outside hitter Erin Lehman battling a foot injury, had her best game of the year, racking up 11 kills and hitting .476.
"It was terrific to see Nele play that well against Florida State," Theis said. "She gets into it too, which is neat … she's fun to be around. When she starts playing well, she gets amped up and it gets everybody pretty excited."
Theis liked how his team played, but knows they will have to be more consistent going forward to reach their potential.
"I take away a lot of positives," he said. "But at the end of the day, you're still going to need to play quality fifth sets to win big matches, and we need to be better at that."
Leave a Comment