GOLDSTEIN: Alternative scoring could be difference maker for MU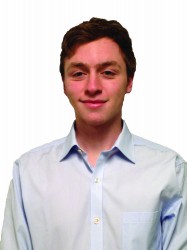 After a long and trying 2014 campaign, Marquette volleyball is headed to the postseason with high hopes. Sunday, the Golden Eagles received a bid for their fourth-consecutive NCAA tournament, despite a third-place regular season finish in the Big East and a close 3-2 loss to Seton Hall in the quarterfinals of the Big East tournament.
However, one problem that has recurred throughout the season has been the lack of a consistent secondary source of kills. Marquette will need to address its scoring before the team's first-round matchup with Illinois State in Madison Thursday.
Sophomore Autumn Bailey is Marquette's best offensive weapon. She was named the Big East Player of the Year after the regular season's conclusion, a well-earned distinction considering her numbers. Her per-set averages of 4.82 kills and 5.60 points are both tops in the Big East and rank fifth and sixth at the national level, respectively.
However, the best teams in the country all have deep supporting casts. While different players have stepped up on different days for Marquette, the overall performance of the secondary and tertiary attackers leaves something to be desired. In fact, senior Lindsey Gosh is the only other player on the team to average more than two kills per set, while also posting a hitting percentage higher than .200. Every other team in the top half of the Big East had three such players.
Perhaps the lack of a consistent supporting cast is because the lion's share of the attack attempts goes to Bailey by design. However, even this strategy has a downside.
Bailey usually hits the ball 45 times over the course of a single game, in addition to whatever serving and digging responsibilities come up. That kind of repetitive motion can wear and tear on the body. And because most volleyball matches are played on back-to-back days, Bailey sometimes can be fighting extreme soreness after these weekends.
If someone else can step up and get 10-12 kills per game on a regular basis, it will be a boon for this team because it will keep Marquette's biggest weapon fresh for when she's needed most. Getting more consistent and spread out scoring will make the Marquette offense more lethal, as its leading scorer will be fresher, and opponents can't concentrate just on Bailey.
Even though Bailey is seemingly Marquette's blue-and-golden ticket to postseason success, the offensive supporting cast will determine how far the Golden Eagles go. A lack of production from them could translate to an early exit for the denizens of the Al McGuire Center. However, should they take their game to the next level in the way that they've shown they're capable of, the Golden Eagles could make a run at the national title.