By Gosh! Club volleyball lands former ace
Former MU ace joins nationally ranked squad in post-Division I career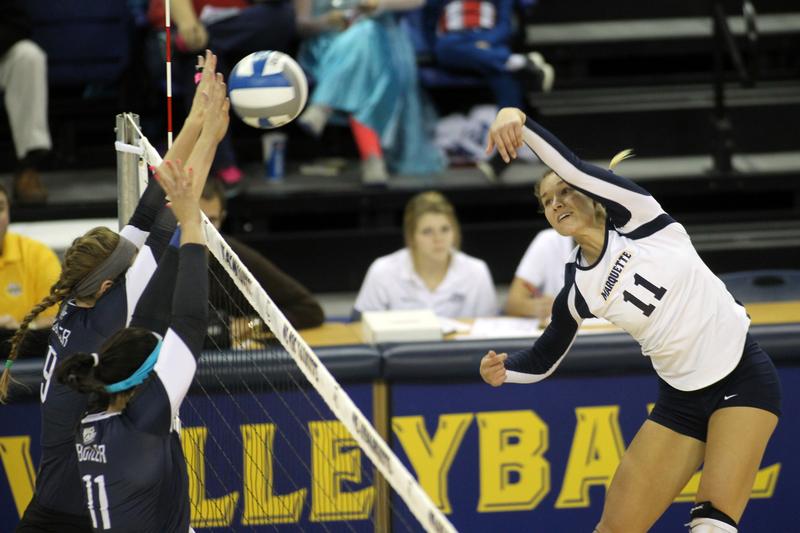 Andrew Goldstein, andrew.goldstein@mu.edu
November 19, 2015
For four years, Lindsey Gosh struck fear into opposing defenses any time she stepped behind the service line. The lefty from Oconomowoc had perfected the power serve, twice ranking in the top-25 nationwide in aces per set.
But, as is the case for all NCAA athletes, four years of eligibility crept up and ended Gosh's prestigious volleyball career at Marquette… or so she thought.
Almost a year after she unlaced her sneakers for the final time as a member of Marquette's Division I team, Gosh is lacing them up yet again–this time as a member of the Marquette club volleyball team.
"I knew that one of my former teammates (Carol Henney) did club once she was done with college volleyball," Gosh said. "I was like 'oh, I miss playing, so I'll try it.'"
Gosh played for Marquette's Division I team from 2011 to 2014 and was a starter for her final three years. She was all-BIG EAST as a junior and senior, and she averaged an impressive 2.48 kills in her career.
The suddenness of Gosh's decision to join the club team surprised senior Maria de Valk, the president of Marquette's club volleyball program and a current player on the team. She says that Gosh wasn't on the team's radar at all.
"We didn't actively seek her out because I was told she wasn't staying on campus," de Valk said. "Then she texted me this summer and asked if she could try out."
De Valk's response?
"I just laughed and said, 'well yeah, you can try out, but you're obviously going to make the team,'" she said. "That was super exciting."
Gosh joins a Marquette club team that consistently ranks as one of the best in the country. The "A" team won back-to-back national championships in 2013 and 2014 and finished fifth in the country last year despite not having any DI-caliber athletes on the roster.
"Usually when a team has a DI player that comes and plays with them, they're a top team in the nation," de Valk observed.
One thing that Gosh has now removed from her game is her trademark serve. Back in her DI days, the right side hitter chucked the ball high in the air, galloped a few steps forward, sprung off the ground and lashed it over the net with her left hand at speeds exceeding 50 miles per hour.
These days, the power that propelled her to 120 aces over the course of her DI career is a distant memory, replaced instead by a standard, flat-footed float serve.
"I suffered a couple of injuries, so the constant jumping definitely isn't good for me right now," she said.
"A couple of injuries" might be an understatement: Gosh suffers from chronic patellar tendonitis and every ligament in her right ankle is currently torn. However, if the injuries affected anything other than her serve, she certainly isn't showing it.
"Dec 22 is when I get surgery!" Gosh exclaimed, right before adding that she didn't regret any of the volleyball career that led to her injuries.
While Gosh says she is virtually unaffected by the torn tendons, she believes her skills aren't superior compared to other top players at the club level. Some of her teammates adamantly disagree.
"You can definitely tell the difference when she's on the court," de Valk said. "When she hits, people back up waiting for her hit to come. The other club players are athletic, but with her, it's very different."
Junior libero Clare Niswonger even went as far as to say that Gosh inspired fear in her opponents.
"Everybody on the other side of the net is terrified of her," Niswonger said. "Even if they could pass her hit, they just automatically peel out."
As a defensive player, Niswonger feels sorry for Marquette's opponents, and she expressed the trepidation they likely experience on the other side of the net.
"When she goes up to hit at practice, I'm like 'I'm out; don't ruin my face,'" Niswonger explained. "I haven't taken a ball off the face from her yet, but I'm waiting for it."
There's a certain irony that the person striking fear in the hearts of Marquette's opponents is Gosh, who might be among the most affable, non-threatening people one could ever meet off the court.
"She's such a sweetheart," Niswonger said. "She's always smiling; always has nothing bad to say about anyone."
The smiling attacker was in full effect during Marquette's Fall Classic tournament on Saturday, helping to lead Marquette's A team to an undefeated record and the tournament victory. With Gosh at the helm of the offense, Marquette looked like a legitimate title contender in the early season.
"Her hits and her blocks are not common at this level," club head coach Molly Keup said. "That gives us an advantage."
As wonderful as this final season may turn out to be for Marquette club volleyball, it can't last forever. Gosh will graduate with a nursing degree in May, and with that comes the beginning of a difficult choice. She can either follow her career path and become a nurse, or move out west to pursue a professional beach volleyball career. Gosh says that ideally, she would like to do both.
"Depending on where you work (as a nurse), they have different shifts. Froedtert (Hospital) has a shift where you work seven days a week for 10-hour days, and then you have a whole week off. The week off is when I'd do a lot of my training."
That's Lindsey Gosh for you. The end of NCAA eligibility, the possibility of 70-hour workweeks and entirely torn tendons are three compelling reasons to retire, but she refuses to let any of them stop her from doing what she's always done–namely, smacking volleyballs to the opposing floor harder than anybody else on the court.