Gosh's serve surging Marquette forward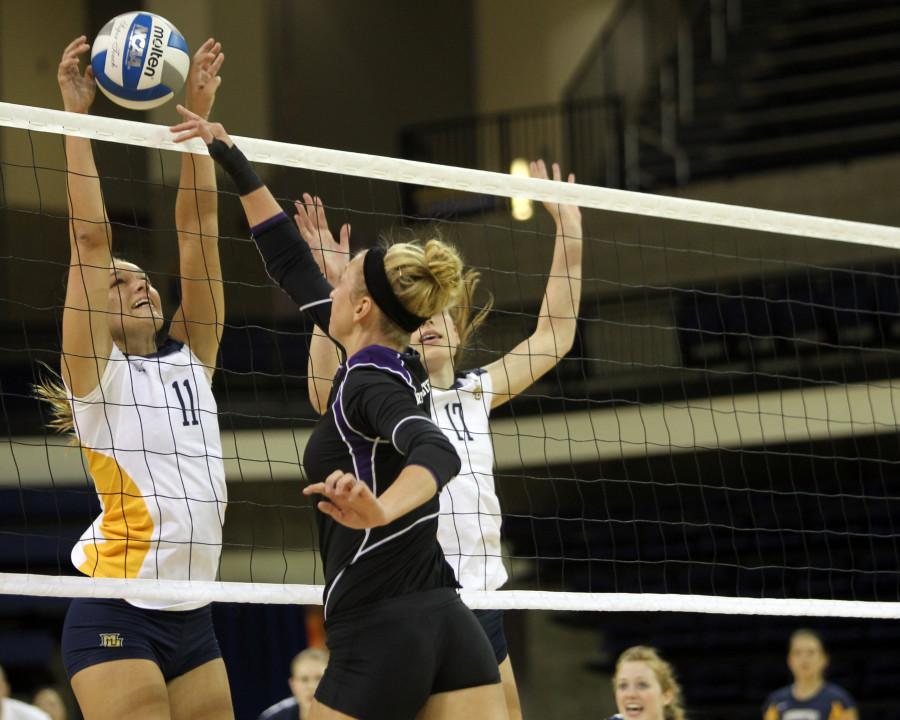 In a sport where hundreds of points and thousands of shots influence the outcome of a match, the role one individual shot plays seems miniscule. However, when that shot goes careening over the net at more than 50 miles per hour, it changes everything.
Such a shot belongs to Marquette junior right side hitter and Oconomowoc native Lindsey Gosh, and it's part of the reason she can take over a match any time she steps behind the service line. The top spin she generates dips her jump serve over the net towards her intimidated opponents.
"We know that the other team is scared of her serve," said redshirt freshman middle hitter Meghan Niemann. "They are going to be scared coming in trying to pass her. It's been great having her back there."
Gosh began jump serving at 17 while a junior at Oconomowoc High School. She said it took her two years to perfect her serve. It wasn't until the spring of her freshman year in college when she began serving in exhibition matches that she finally got the hang of it.
Since then, her serve has steadily improved. Coach Bond Shymansky noticed an increase in the speed of her serve from the mid-40s to the low-50s from Gosh's sophomore year to now.
"The mechanic is a lot more consistent for her," Shymansky said. "When you can be consistent with that technique, then you can bring more and more speed to the serve."
The difference a year has made for Gosh's serve appears in her statistics. While her error numbers are slightly up, she is averaging nearly twice as many aces per set as she did last season.
"That difference is that split second that keeps them from adjusting," Shymansky said. "When you add the fact that she's left-handed to it, so the spin is opposite of what people normally anticipate, it's just a hard ball to pass."
For Gosh, aggression is her greatest weapon from the service line.
"My number one goal would have to be being aggressive," Gosh said. "Making sure I get my toss consistent will allow me to be aggressive as much as I can."
When her errors start adding up, she slightly eases back on her serve to focus on accuracy. However, Gosh said Shymansky's message to her remains the same.
"Whenever I go back to serve in a match, he always says, 'Give me 50, Gosh,'" she said. "That means being able to serve it 50 miles per hour. Those are my instructions from him."
Shymansky regards Gosh's serve as vital to the team's success because of how it can completely alter the match in either team's favor.
"It's a game-changer," Shymansky said. "If it does what it's supposed to do, it totally shifts the momentum and feel or flow of the game. It can work either way for us."
Against archrival Wisconsin-Milwaukee on Sept. 22, Gosh powered Marquette to a blowout victory. She recorded a career-high six aces. At one point, she completely demoralized the Panthers with a five-serve run that allowed Marquette to run away with the second set.
"Having someone like (Gosh), with a tough serve, helps to relieve pressure off of our defense," senior libero Elizabeth Koberstein said. "If they're not passing very well, we can set up our defense more easily."
When asked what one word best describes Gosh's serve, both Koberstein and Gosh answered the same way.
"The first word that comes to mind is dynamic," Koberstein said. "It just does a lot for us. I think about my serve and I would say 'consistent,' because that's my goal. Her serve, the goal is to be dynamic and do something for us rather than just be in and to a spot."
The accuracy and speed of Gosh's dynamic serve will be crucial if Marquette plans on winning the Big East and making a deep NCAA Tournament run. Niemann is confident Gosh's serve will do its part.
"It is deadly what she can do to other teams," Niemann said. "I can see their faces, and they have a different look on their face when she's back there serving. Any time you get a team doubting their abilities, that's a good place for us to be in."