LEARY: Bond Shymansky put Marquette volleyball and my writing on the map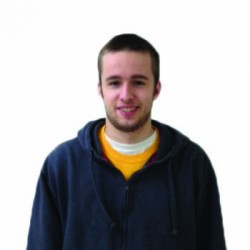 On my first day of work for The Marquette Tribune, I wandered into the Al McGuire Center and watched the Marquette volleyball team defeat Bowling Green in three sets.
What struck me wasn't the complexities of the sport that I didn't understand at the time; rather, I noticed the stellar post-game insights provided by Marquette's wordsmith coach.
Bond Shymansky was, of course, much more than a good interview. He completely rebuilt a program that had never sniffed the NCAA Tournament into a contender. His astounding record as the Golden Eagles' head coach, 118-45, speaks for itself even without his exceptional gift of gab.
Naturally, I was disappointed to read Saturday that Shymansky accepted the head coaching job at the University of Iowa.
However, that disappointment has no hard feelings attached to it whatsoever. The move made sense for Shymansky, a Hawkeye volleyball player in the early 1990s. At this point in his career, accepting his dream job at his alma mater in what is debatably the best volleyball conference in America is a logical next step.
This reporter will remember Shymansky as a caring leader willing to help out a developing student journalist in any way he could. I don't give this distinction lightly: Bond was a quote machine.
A few pertinent examples include the time in fall 2012, when Shymansky used the phrase "it's big time," three times in a single quote. The Tribune staff got such a kick out of it, we ended up putting "It's Big Time" on the back of our yearly sweatshirts. This year, when describing a rattled start from star freshman Autumn Bailey, he invoked Ron Burgundy when he said Bailey was "in a glass case of emotion" in the first set.
Besides his wit and humor, Shymansky's love for his players always came through in his on-court demeanor and interviews. When Marquette clinched its first Big East regular season title against Xavier, its fearless leader jumped into the air, pumped his fist and embraced his assistant coaches in a celebratory fervor. After the match, Shymansky offered his gratitude to the program as a whole.
"When I came here five years ago, I knew it could be done," he said. "Marquette is such a special place: our building, the facility, the support around the program and the athletic department, I knew it could be done."
And he got it done. I'm sure next fall, when volleyball season rolls along, I'll miss interviewing Shymansky. But at this stage, I have nothing but gratitude for what he did for Marquette sports and for my career as a sports writer.
Thank you, Bond.
Leave a Comment