Bond Shymansky departs Marquette for alma mater Iowa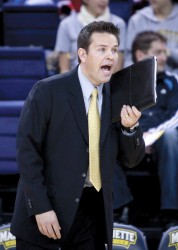 Bond Shymansky called his team together Friday evening to tell them he made one of the most difficult choices of his life: he was going home to his alma mater, the University of Iowa, and accepted their head coaching job.
"There was no easy way to break it to them, so I just kind of blurted it out and let it sink in for a few minutes," Shymansky said. "It was a full range of emotions. Everyone was very upset, including me."
The news broke over the weekend and Marquette athletics released a statement Monday confirming the coach's decision.
"We appreciate the substantial contributions coach Shymansky has made to the growth and development of Marquette volleyball," Marquette interim vice president and director of athletics Bill Cords told GoMarquette.com. "He, his staff, and team have raised the success and visibility of our program to a national level and in so doing have built a solid foundation upon which to grow stronger and better. We wish Bond and his family the very best."
Shymansky departs with a 118-45 career record and a 57-16 mark in Big East play. In an exclusive interview with the Tribune, he praised Marquette for giving him the resources and opportunities to succeed.
"In so many ways, Marquette was my dream job," Shymansky said. "We were well supported, well thought of, winning. It is a great university and I worked around great people every day and we loved the community we lived in."
Regardless of the supportive community, family played a huge role in Shymansky moving back to Iowa City.
"It's the perfect fit for us from a family standpoint," he said. "Our entire families are here. Not just my wife's and my parents, but all of our brothers, sisters, everybody, they're here. So there's a really neat community feeling for us."
Shymansky also noted the challenge of rebuilding Iowa's program, finishing 11-21 overall and 2-18 in the Big Ten conference, which piqued his interest.
Shymansky said he looks forward to the challenge of rebuilding Iowa in the Big Ten, a conference he regards as "bar none, the best conference in the country."
He acknowledged the difficulty involved with making the decision, but knew he left the Marquette volleyball cupboard far from bare.
"It's hard to look them in the eye and know that they believed so deeply in the direction that our program is going and in my leadership," Shymansky said. "They still have that same belief for each other and for the program."
Even though he "was knocking them over with the news," Shymansky said each player extended their appreciation to him in the days following the meeting.
"As they've had a little bit of time and space to digest the information … they've all reached out to say, 'Congratulations, we're going to miss you so much, but thanks for everything that you've done,"' he said.
In the same statement Monday, Cords said the search for Shymansky's successor was underway.
"The search has already begun for a coach who shares our vision for the future of (Marquette) volleyball and who will continue to build our program and capitalize on the momentum of the team's recent success," Cords said.
Ultimately, Shymansky knows he is leaving behind a program that will succeed for years to come.
"I'm leaving behind a winner," he said. "Winners continue to win. They just know how to do it."
Leave a Comment