LEARY: Is it too little, too late for MUBB?
Hang on for a minute...we're trying to find some more stories you might like.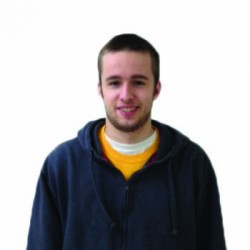 Marquette's men's basketball showed serious promise in Saturday's loss to No. 4 Villanova, but at the end of the day, the game was just that – another loss.
The 2013-14 Golden Eagles are in the process of reinventing themselves, and the results shined through in recent games. The team now relies on junior guard Todd Mayo in crunch time, and the Huntington, W.Va., product came up big in the final minute against Villanova and Georgetown. Freshman guard John Dawson developed his outside shot and presented a strong contrast to junior Derrick Wilson at the point. Sophomore forward Steve Taylor, Jr. has seen his role develop lately, logging 23 minutes in each of the past two contests following a streak of seven out of 10 did-not-plays.
Despite all of this progress, the basic facts remain: This team is 11-9 and 3-4 in a mediocre conference. Every opportunity for a decent win on the team's schedule went by the wayside, with the exception of George Washington on a neutral site, and an embattled Georgetown squad on the road in overtime. Butler is the only one of Marquette's nine losses that could be considered bad, but Hinkle Fieldhouse is a brutal place to play.
In recent years, Buzz Williams' teams stood out because of their ability to capitalize on victories from a team perceived as having limited talent. This year, Marquette is remarkably unremarkable. The Golden Eagles win games they should, and lose games when they face any sort of adversity.
Last Monday, the team broke through a glass ceiling of sorts, beating the Hoyas on the road in overtime. Marquette appeared dead to rights, but Mayo resuscitated the game by drilling a three-pointer with six ticks left in regulation. The Golden Eagles cruised in the extra period and suddenly, the thought that this team could battle through adversity actually seemed realistic.
The confidence Marquette showed against Georgetown carried over into the Villanova game. After a vicious JayVaughn Pinkston slam, the team fell behind 68-57, with under five minutes remaining. Unfazed, Mayo and the Golden Eagles surged back and forced overtime with some miraculous shooting and a few good breaks.
Unfortunately, a few good breaks weren't enough to secure a victory against a top-five opponent like the Wildcats. Marquette still needed to play defense in the overtime period, and it did that horribly, failing to record a single defensive stop. While the magic Mayo conjured up showed this team has promise, the loss goes down as yet another missed opportunity in a season full of them.
Some chances still remain for the Golden Eagles to build their resume and sneak into the NCAA Tournament. Marquette hosts Creighton Feb. 19 and could score a big win at Villanova March 2. To expect a team that's consistently losing against top competition to immediately reverse its ways so late in the season and win seven of nine games seems drastic. For better or for worse, this might be an NIT squad come March.