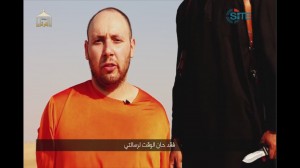 Vice President Joe Biden said Wednesday that the U.S. will "follow (the Islamic State) to the gates of hell" to seek justice after the group beheaded two journalists in two weeks.
A video released Tuesday showed the beheading of American journalist Steven Sotloff, exactly two weeks after a video showed Marquette alumnus and photojournalist James Foley being beheaded by a member of IS.
"Marquette University extends its thoughts and prayers to the Sotloff family," a statement released by Marquette said Tuesday. "The Marquette community stands with the friends and family of James Foley, who continue to advocate for the protection and safety of journalists in their quest to promote freedom and truth."
The U.S. intelligence community confirmed the authenticity of the video Wednesday.
Sotloff was shown in the video of Foley's beheading, in which the executioner warned that Sotloff would be killed if President Barack Obama continued airstrikes against IS in Iraq.
Airstrikes continued, including one that damaged armed vehicles near the Mosul Dam.
"Like Jim Foley before him, Steve's life stood in sharp contrast to those who murdered him so brutally," Obama said. "(IS makes) the absurd claim that they kill in the name of religion, but it was Steven, his friends say, who deeply loved the Islamic world. His killers try to claim that they defend the oppressed, but it was Steven who traveled across the Middle East risking his life to tell the story of Muslim men and women demanding justice and dignity."
Sotloff worked as a freelance journalist for Time magazine, Foreign Policy and other publications prior to disappearing in Syria in Aug. 2013.
This story was updated September 4, 2014 at 12:44 a.m.
Story continues below advertisement