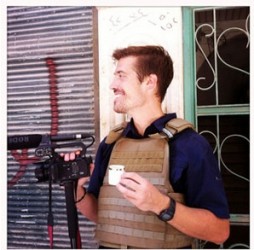 James Foley, missing American journalist and Marquette alum, was reportedly killed by Islamic militants.
In a graphic video posted to YouTube Tuesday afternoon, a man identified as James Wright Foley is shown being executed by a member of the Islamic State in Iraq. The execution is said to be retaliation for American airstrikes against ISIS.
Another prisoner, identified as another American journalist Steven Sotloff, is shown at the end of the video with the warning that his life depends on President Barack Obama's future decisions in the region.
Foley went missing Nov. 22, 2012 while covering Syria's civil war after spending five years reporting on the region. According to efforts led by GlobalPost in 2013, Foley was believed to be held in a detention center in Damascus with other Western journalists. Foley was also captured by Libyan forces in April 2011 and was held captive for 44 days before being released.
Story continues below advertisement
Foley, originally from New Hampshire, graduated from Marquette in 1996 and studied history and Spanish.
Update: James' mother, Diane Foley, made a statement Tuesday evening on the family's "Free James Foley" Facebook page saying "We have never been prouder of our son Jim. He gave his life trying to expose the world to the suffering of the Syrian people." She asked for privacy in the days ahead as the family mourns and cherish's its son, and also implored the kidnappers to spare the lives of the remaining hostages.