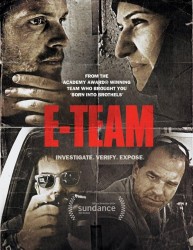 The final work of slain Marquette graduate James Foley will soon be released to the public. The photojournalist's film, "E-Team," is set to premier on Netflix Oct. 24.
Human Rights Watch announced that Netflix Inc. purchased "E-Team" as a "high-profile Netflix original" in a news release May 9. Netflix will show the film on its online streaming platform and during a limited theatrical release in the United States. Dates for the theatrical release are not yet announced. The release adds that directors Ross Kauffman and Katy Chevigny had permission to "produce a 'warts and all' portrait of human rights activists in the field," calling the film the most extensive look into the organization's work.
The documentary follows four Human Rights Watch researchers as they investigate rights abuse and war crimes in Syria, Libya and Kosovo. The Human Rights Watch "E-Team," or emergencies division, works primarily in war-stricken areas, searching for validity in claims of human rights abuse. Team members then document and present evidence of those crimes to first world governments in efforts to spark counteractions. Foley worked on the production crew as a cameraman, shooting footage in Libya.
"This is the world that James Foley wanted to show us, that he died trying to show us," Marquette alumnus Dan O'Donnell said of the film, "the world he knew we needed to see."
The release is part of Netflix's push to expand its non-fiction content. Documentaries were previously available to subscribers, but the streaming service wants filmmakers to create projects specifically for the company or allow Netflix to offer the first wide distribution of the films.
"E-Team" premiered earlier this year at the Sundance Film Festival, where it won the award for best cinematography. After the end credits, a message reads, "James Foley, who served as one of the film's cameramen, disappeared in Syria after filming was completed."
The photojournalist was beheaded last week by Islamic terrorists. In a graphic video posted to YouTube, Foley referred to the U.S. government as "my real killers" before a man dressed in a black robe killed him.
Abdel-Majed Abdel Bary, a 23-year-old British-Egyptian rapper, is now a key suspect in the beheading, according to British authorities.
Members of the Marquette community continue to grapple with the reality of Foley's death. For O'Donnell, it can be used to expose the true motives of the ISIS group.
"We are all James Foley," O'Donnell said, "because the evil that is the global jihad movement has the potential to hurt us here in Milwaukee just as surely as it hurt him in Syria. In that sense, James' death may be too terrible to watch, but it's also too terrible to ignore."
Story continues below advertisement