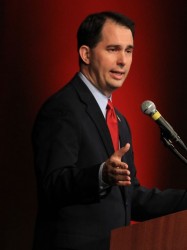 Charles Franklin, director of the Marquette Law Poll, said poll-to-poll changes in this year's gubernatorial race are "remarkably flat" as he unveiled a new poll Wednesday afternoon.
Incumbent Republican Gov. Scott Walker leads his Democratic challenger Mary Burke by roughly three points, at 47.5-to-44.1 percent, among registered voters. Among likely voters, though, Burke led Walker 48.6-to-46.5.
Both Walker and Burke increased their leads in the respective categories by about two points since the last poll was released in July.
One noticeable change in Wednesday's poll from July's poll was the number of people who think Wisconsin lags in job creation. Fourty-eight percent of registered voters said they think the state lags behind in job creation, which is an increase from 43 percent in July. Even with that change, Walker and Burke are tied at 45 percent when registered voters were asked who they thought could better create jobs in the state.
Even with a lot of tight numbers between Walker and Burke, 54 percent said the state is headed in the right direction and 51 percent said the changes of the last few years will benefit the state in the long run. Both numbers would be encouraging for Walker, but registered voters were split 47-to-47 percent on their approval of his job as governor.
Polling was done from Aug. 21-24, and included 609 likely voters, with margin of error of +/- 4.1 points, and 815 registered voters, with margin of error of +/- 3.5 points.
Story continues below advertisement