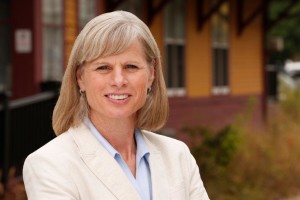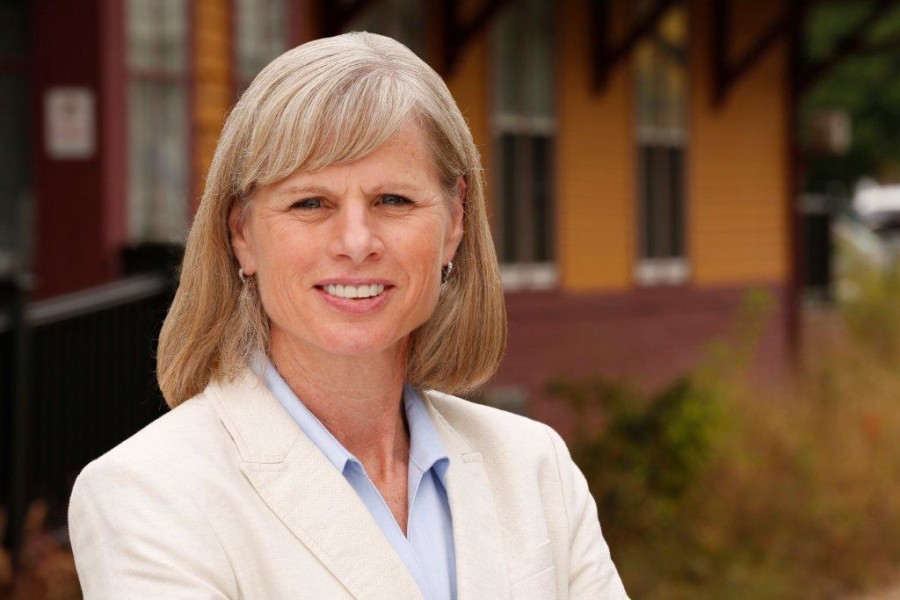 Democratic gubernatorial candidate Mary Burke publicly discussed her newly released Wisconsin jobs plan for the first time Tuesday at Marquette Law School's "On the Issues" segment with Mike Gousha.
Her plan, titled "Invest for Success," emphasizes Wisconsin's need to invest in an entrepreneurial culture and align the state's economic development around strongly established industry "clusters." It was released Tuesday morning, five months after Burke announced her candidacy in October.
"Every good business person knows that if you want to grow, you want to make investment," Burke said about her plan.
Burke, a Madison school board member and former secretary of commerce for former Democratic Governor Jim Doyle, spoke to local media and a sold-out audience at Eckstein Hall during the  "On the Issues" segment. The candidate roots her economic credibility in her time as a former executive at Trek Bicycle Corporation, a Waterloo-based global bicycle company owned by her family.
The 40-page job plan details five key strategies Burke would use to tackle job growth as governor. These avenues of action include: pooling resources into competitive business clusters, building a workforce qualified for 21st-century jobs through closing the "degree gap," investing in Wisconsin's business startup industry, expanding Wisconsin's economic influence globally and creating an climate conducive to business growth.
Burke trails behind Gov. Scott Walker in all gubernatorial polls by several points. According to a Marquette Law Poll conducted in mid-January, Walker leads Burke, 47 to 41 percent. A Ramussen Reports poll conducted from March 10 to 11, however, did find Burke and Walker tied, each with 45 percent of respondents' support.
Her plan also includes strategies to gradually increase Wisconsin's minimum wage to $10.10 per hour, make higher education more affordable through higher tuition deductibles, and bring foreign manufacturing back to Wisconsin through "reshoring" jobs lost from cheaper labor overseas.
When asked if Burke would commit to bring outsourced Trek Bicycle jobs back to the U.S. by an audience member Tuesday, Burke defended the company.
"I'm going to work with all Wisconsin companies and identify jobs that can be brought back," Burke said. "But Trek produces more bikes in the U.S. than any other company, but it is a very competitive industry. And not one of its competitors produces even one bike in the U.S."
Like Walker, Burke said she will "hold the line on taxes" and not raise them. She said she will "re-prioritize" the $70 billion state budget to achieve the type of economic investment detailed her job plans.
She also criticized Walker's $25 million venture capital fund, saying it was not "aggressive" enough for significant economic effects.
Among other issues Burke discussed at Eckstein Hall included education, stating the voucher program "should not be a program that should be expanded statewide." She said the government was "wasting too much energy" on failing schools and that the voucher program was siphoning money away from public schools. She cited the current program's lack of accountability as one of the reasons she would work to repeal Walker's expansion of voucher schools in the budget.
"We expanded this voucher program without talking about the rules and without talking about the consequences," Burke said.
She also briefly touched on the topics of gay marriage and legalization of recreational marijuana. Though Burke said she thinks people "should have the freedom to choose who they want to marry," she said she did not think it would be a dominant issue in this upcoming election. Similarly with marijuana legalization, she said supports medicinal marijuana, but does not believe the debate concerning recreational marijuana would be a "priority."
Burke also said she would accept the federal aid the governor has rejected in the past, citing Walker's 2012 rejection of federal funding for a Milwaukee-Madison rail line and medicaid expansion.
"Wisconsin does not get its fair share of federal government money," Burke said.
A new Marquette Law Poll will be released Wednesday with new polling data on the gubernatorial race between Burke and Walker.