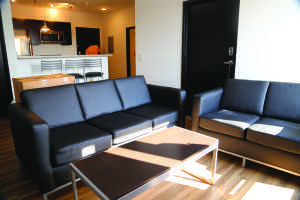 The first floor of the Ivy on Fourteenth apartments might not have windows — or even walls — but residents began moving into their luxury living spaces when it opened Wednesday.
The new luxury apartment structure on the 1400 block of Wells St. frequently did not look like it would open in time for the semester. Setbacks from a severe winter delayed much of the progress, and called for extra work hours from some of the workers.
In recent weeks, The Opus Group,  the construction firm that headed the project, had employees work through the night.
"The few weeks prior to (opening), we were working at any minute we could possibly work," said Julie Ledger, vice president and general manger of Opus Development Company. "It was a long road to get here. It was a really difficult winter. Everybody knows how difficult the weather was and the impact it has on the construction site was exponentially difficult."
Even with its residents settling into their apartments, Ivy remains unfinished. The first floor is still under construction and will be used for retail space.
"For people from the outside, [Ivy] looks not done because the retail isn't done," Ledger said. "The retail area is completely separate from apartments, so those retailers have different opening dates for later in the fall."
Four businesses will move into the first floor. Subway, which previously occupied Ivy's space prior to construction, will return and is expected to be the first retailer to open. The only other confirmed tenant is Burger King.
Concerning the other retailers, Ledger said one lease has been signed and will be a "fast casual food place" that is "unlike anything on campus." Ledger said the other lease is being negotiated but will not be food.
Zach Affeldt, a junior in the College of Health Sciences who moved into the building, said despite the long process, the apartments were well worth the wait and that he was not concerned about being able to move in on time.

Affeldt said The Opus Group emailed progress reports, posted updates on social media and called to inform tenants in June that the move-in date was scheduled for Aug. 20, barring any unforeseen complications. Work on the apartment units  finished in time for move-in.
The building contains 80 units as well as a computer lab, study rooms, fitness center, daily coffee bar, state of the art club room and indoor parking garage with bike racks. Other amenities include cable, Internet, water, sewer and trash.
"The apartments are super nice," Affeldt said. "They're clean. We don't have to worry about the tenants that lived there before. And with the nine-month lease I actually ended up saving a lot of money not having to pay for the summer."