Third Ward hosts Gallery Night and Day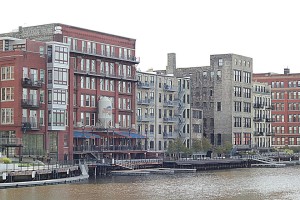 The Historic Third Ward was once Milwaukee's warehouse district but is now host to the largest art events in the city.
"We are known as the art district of Milwaukee, and we are one of the country's 12 best art districts and were named one of America's top places for art in 2013," said Nancy O'Keefe, executive director of the Historic Third Ward Association.
The event that helped the Third Ward earn its place among premiere art cities, however, is Gallery Night and Day, which takes place this weekend.
Gallery Night and Day is a gallery crawl, during which art enthusiasts move between participating galleries and sample a variety of work by artists specializing in various media. For the most part, the artists are from Wisconsin, although some are from other states.
The gallery crawl, now in its 26th year, happens seasonally with days in the summer, fall and winter.
"It actually started with the East Town Association and Milwaukee Art Dealers Association," O'Keefe said, "and so we were approached in 2000 to help present the event, and then we, in the Third Ward, took it over."
By O'Keefe's estimation, around 5,000 people turn out for Gallery Night and Day to see what artists the galleries are showing. In the last 14 years, the event grew substantially and became more efficient in the process.
"At first, we used to deliver balloons to the galleries and run out pamphlets," O'Keefe said, "but now, it's come a really long way and is much easier (to draw in crowds)."
The district has also changed a lot since the event's inception.
"We also have a lot of fashion (in the Third Ward)," O'Keefe said, "but in the old days, this is where artists used to have their places and studios because of the cheap rates, not that it's that way anymore." 

The area still retains its artistic identity thanks to the many galleries that moved in.
"The best part about it though is that you can go gallery hopping, and you can always go back on other days to see galleries you missed or want to see again," O'Keefe said.

While many of the galleries are in the Historic Third Ward, galleries across Milwaukee also participate. The Third Ward, though, is the easiest place to see the majority of the event's galleries.
"We open it to any gallery," Katie Kimes, marketing coordinator at the Historic Third Ward Association, said. "We get all sorts of galleries, and we have some restaurants or business that are not typical venues for art that participate."
One of those more unique venues is the Milwaukee Institute of Art and Design, which features work made by graduating students.
"We have multiple galleries, and this is the largest show we do here," said Louisa Walker, development and communication associate at MIAD.
It may only count as one gallery on the list of participants, but MIAD's exhibition actually takes up four galleries within the school. With 153 young artists on display at MIAD, there is a huge variety of art present in its galleries.
"Everything from photo, printmaking, industrial design, sculpture, communication design or what most people call graphic design, furniture and many other disciplines are included," Walker said.
But it's not just local galleries and art schools featuring artists. Local businesses like Hansen Reynolds Dickinson Crueger, LLC., a boutique litigation law firm located in the Third Ward, also turn their spaces into galleries showcasing artists. This year, the firm will display two different styles of photography.
"Steve Puetzer does conceptual imagery, and Tricia Shay does black and white architectural images," said Tim Hansen, a founding partner of HRDC. "We were really lucky to connect with them through a charity event, Feed Your Soul."
HRDC first started showing art for the annual gallery crawl in 2011.
"It was dumb luck that we ended up in a space ideally suited to Gallery Night and Day," Hansen said. "The office we're in here in the Third Ward is a former art dealer's office, and we thought, 'Why not use that to our advantage and showcase our local artists?'"
Leave a Comment