EDITORIAL: Marquette greek life needs to refocus on mission of integrity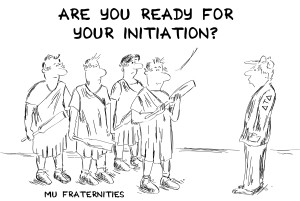 Despite the commitments to service and the community it purports, the Marquette Greek system demonstrated a pattern of misbehavior over the past few years.
Marquette fraternities were involved in several incidents – as recently as the past few weeks – approaching the announcement of a new fraternity and sorority on campus by the Interfraternity Council and Panhellenic Council. On April 5, a student reported to the Department of Public Safety an incident of sexual assault by another student at Triangle Fraternity. DPS also issued a report last week indicating hazing at an unnamed fraternity on campus.
These incidents are only adding to a longer string of violations. Last year, Sigma Chi was suspended for one semester due to hazing violations, and in 2012, six fraternities on campus – Delta Chi, Omega Delta, Sigma Chi, Sigma Phi Delta, Sigma Phi Epsilon and Triangle – were placed on probation due to alcohol violations.
These reports portray Marquette Greek Life in a very different way than the university presents its fraternities and sororities on the Greek Life page of its website.
"As a Catholic, Jesuit University," the page reads, "Marquette Greek Life serves the University Mission with integrity and aspires for excellence while respecting the dignity and diversity of its members. Our Greek community exists to enhance the lives of individuals by raising awareness and serving the needs of Marquette University and the greater Milwaukee community. Through the bonds of brotherhood and sisterhood, Marquette Greek Life strives to strengthen its members through scholarship, leadership and service."
Considering the recent behavior at Marquette's Greek Life establishments, the decision to introduce a new fraternity and sorority to campus next year comes at a peculiar time. Delta Tau Delta, the proposed new fraternity, will come to campus with a clean slate, but will join a Greek community where social violations often overshadow contributions to the greater community.
In many ways, Greek organizations on campus strive to meet the university statements. Sororities and fraternities often hold philanthropic fundraising events and require members to participate in Hunger Clean-Up. Some affiliate themselves with specific organizations and raise money on their behalf.
If a new fraternity and sorority are on their way to Marquette, members of Greek Life need to begin considering their unsound social behavior and recommit themselves to these philanthropic causes.
Delta Tau Delta has an opportunity to set a new precedent for fraternities on campus, but it also runs the risk of falling into the same behavior. With a new fraternity and sorority on their way, members of Greek life need to begin reconsidering this social behavior and pursue causes outside of organized social events.
The university paints Greek Life in a positive light on its website, and Delta Tau Delta has a similarly positive motto: "Committed to Lives of Excellence." Other establishments on campus do the same.
All fraternities and sororities commit to these mottoes in theory, but at Marquette, many fail to demonstrate "dignity" or "integrity" in practice. It is not up to the fraternity itself to follow this motto – Marquette chapters stem from national organizations. But rather, it is up to the students who join.
Social misbehavior, hazing and alcohol violations all begin with individuals and work their way out to represent the organizations as a whole. The few individuals who engage in poor behavior and violate the rules of the university, the Interfraternity and their specific chapters give the entire Greek system at Marquette a bad name.
The introduction of a new fraternity and sorority means Marquette is widening the influence of Greek life on campus. It is vital these organizations get back on track. Violations should not show up in headlines more frequently than service contributions. Individual students in fraternities and sororities need to veer away from this behavior, and the Greek community as a whole needs to reinvigorate its commitment to service.
View Comments (6)