Greek Week promotes unity among chapters
While sororities and fraternities around the country often get a bad rap, many students involved in Greek life at Marquette want to change that view. Fortunately, Greek Week, an annual event filled with both competitive fun and meaningful philanthropy, is just one way in which Marquette's Greek life men and women are showing their desire to give back.
Elizabeth Killian, a senior in the College of Arts & Sciences, member of Kappa Delta and the vice president of programming for Marquette's National Panhellenic Association, had only excitement exuding from her about this week.
"Greek Week is a week of bonding between all those in Greek life," Killian said. "It combines friendly competition with doing something good for our community."
This year,  newer events of trivia and capture the flag join the ranks of the old-time Greek Week favorites of sand volleyball, kickball, penny wars and football. Plus, with the week running parallel to Marquette's homecoming this year, different chapters are partaking in homecoming events like glow bingo and the block party, as well. Greek members are even involved in Marquette's Got Talent.
"We're leaving it up to the sororities and fraternities if they want to actually participate or just want to go," Killian said. "But I'm hoping some of them will participate because that would be super fun to see."
The new opportunities provided by Greek Week's hybrid with homecoming not only spice up the year's schedule, but have chapter members, both old and new, especially eager. Vicente Weber, a Sigma Chi and a sophomore in the College of Business Administration, said he is looking forward to both bonding with his brothers and mingling with non-Greek students.
"I'm really excited for the Block Party," Weber said. "It'll be great to grow closer to the guys in my chapter, but it's also going to be awesome to interact with students that aren't in Greek life, and show them how much we like to have fun."
Fun is central to Greek Week, but so is competition. After all, one sorority and one fraternity will ultimately be deemed the champion based on their success and involvement in the events of the week.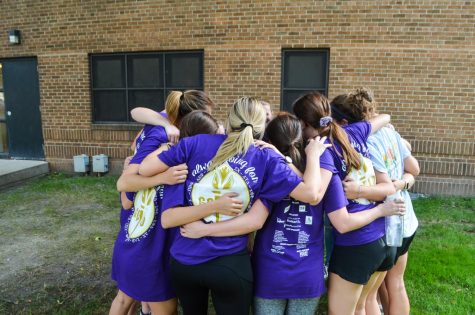 But it's not just bragging rights that all those involved in the festivities compete for. The winning sorority and fraternity each receive a donation from either Panhellenic or Interfraternity Council to give to a charity of their respective philanthropy – a fact that makes the efforts of each chapter even more significant. Panhellenic is a governing body for sororities and IFC does the same for fraternities.
Katie Jelcz, a Kappa Delta and senior in the College of Arts & Sciences, has seen the undercurrent of unity for good in every Greek Week she's been a part of.
"I think Greek life is a lot different here than at bigger schools, because most everyone here knows and likes each other," Jelcz said. "We don't try to take shots at other chapters, and so in weeks like this, it's so cool to see how easy it is for us all to come together and have fun while still giving back."
While this year's Greek Week is closed off to only those currently involved in Greek life, any and everyone has a chance to be involved next year by rushing – something that many involved students recommended. Natalie Baber, an Alpha Phi and senior in the College of Arts & Sciences, hopes to remind students that Greek life might surprise even students who think it is definitely not for them.
"Joining a fraternity or sorority is so much more than just joining a social organization," Baber said. "There are so many different aspects to it: philanthropy, leadership, competitions and sport events like this (week). There's really something for everyone."
Leave a Comment