Love Letter to Alpha Phi
My Dear Alpha Phi,
Before joining, I'd never considered myself the type of girl to join a sorority. But, my first year of college was in the middle of Covid, I had a bad roommate and maybe one friend. So, I decided to go through recruitment so I could finally meet some people. During the first round, I talked to someone who I connected with instantly: Maeve. I'd never met someone whose energy could travel over Microsoft teams, but her humor and smile have stuck with me since.
Once I officially joined, Maeve said, "You should meet my little LK, you'd love her." LK turned out to be my first best friend in Alpha Phi. She is headstrong, an incredible leader and crazy smart, but she can also make you laugh until you get a cramp in your side. Even though events during that first year weren't fully in-person or at capacity, I found a home with my big. My sophomore year I got two littles, Gretchen and Kelly, who have made my Alpha Phi experience even better.
Now, in my junior year, I live in the best house on Kilbourn. The third floor, even though it was under construction for a semester and we found mold in a closet, has made a permanent place for itself in my heart. This year with the women of Alpha Phi floor three will be the times I reminisce on when I'm old. I'll tell my kids how I used to be so cool, and I had lived with 26 of my best friends. I'll always remember staying up until 2 am in the living room singing to ABBA, post Blue Bat naps on the floor and getting ready for formal together. Mostly, I'll always love my true sisters of floor three: Annie, Morgan, Lauren, Madeline and Mary. They're the reason my junior year has been the best year of my life. They support me, challenge me to be the best version of myself and love me like the sisters I've never had.
Every woman in Alpha Phi Eta Mu is my sister; we fiercely support each other and love being together. I can't name everyone, so I'll just say this: God, I love Alpha Phi. Even though I'd never imagined myself as a sorority girl, I sing "Green Green" and scream chants whenever I get the chance because I know I'll be chanting right alongside my sisters.
Love you girls always,
Care
Leave a Comment
About the Contributor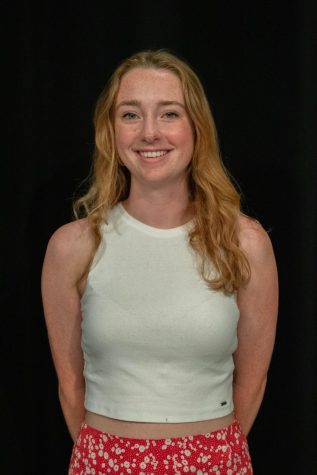 Caroline Bennett, Assistant MUTV Multimedia Entertainment Journalist
Caroline is the Assistant MUTV Multimedia Entertainment Journalist at the Wire. She is a junior from Wilmette, IL studying digital media and minoring in...