Greek life adds 2 new chapters, prepares for 3 new houses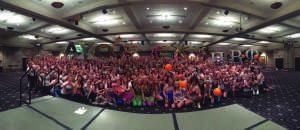 Two new Greek chapters, Delta Tau Delta and Kappa Delta, joined Marquette earlier this month after a year of planning the expansion.
The university will also see a new Alpha Phi sorority house on the 1500 block of W. Kilbourn Avenue, and Sigma Kappa proposed to build a new sorority house in the same area. Alpha Xi Delta is also preparing to move into a new sorority house at 1436 W. Kilbourn Ave.
The two new chapters underscore a rapidly growing involvement in Greek Life at Marquette, which is also seeing developments for existing sororities.
Kappa Delta, the new sorority, will officially be recognized March 29 at their initiation and installation ceremony. Delta Tau Delta, the new fraternity, recruited 32 founding members and will continue recruiting until Feb. 27 to reach their goal of 60 founding members.
"An expansion can be very challenging," Kyle Yarawsky, Delta Tau Delta's director of growth, said in an email. "If you think about it, we have three staff members who never went to Marquette spending four weeks on campus to form a new fraternity by not just recruiting but also building the structure and educating the guys on how to function."
He added that university staff, students and organizations helped make the expansion run smoothly.
"Once we finish, the colony will have a structure, trained officers, the membership has direction, has set a mission and goals and is ready to function just like any fraternity would on campus." Yarawksy said in an email. "Throughout the remaining semester, they will be working to meet certain criteria to become an official chapter of Delta Tau Delta which will likely occur sometime in fall 2015."
Brianna Blackshire is the leadership development consultant for Kappa Delta.
"Thus far, Kappa Delta has not faced significant challenges," Blackshire said in an email. "The Greek community has been so receptive to the establishment process and have been essential in building another successful Greek organization on campus," Blackshire said in an email. "We could not have carried out a successful recruitment without NPC leaders and the support of the other sororities."
Alison Stelletello, a senior in the College of Business Administration, provided an update on Alpha Xi Delta's new house, which will be completed first.
"Our new house has been well under way since the beginning of the fall semester," Stelletello said in a message. "The construction is set to be completed by June 1. We plan on hosting a big Grand Opening ceremony this summer once the girls have moved in. Big things are happening on this campus for Greek life and I speak for all of us when I say that Alpha Xi Delta feels extremely fortunate for this opportunity."
Lauren Hilger, a junior in the College of Business Administration, said Alpha Phi's new house was approved by the Milwaukee's Zoning Board of Appeals. Its goal is to break ground by April and have members move in by June 2016.
The Tribune reached out to Sigma Kappa for an update on its new house but it did not respond in time for the story.
Leave a Comment