Jimmy and Seth take on late nights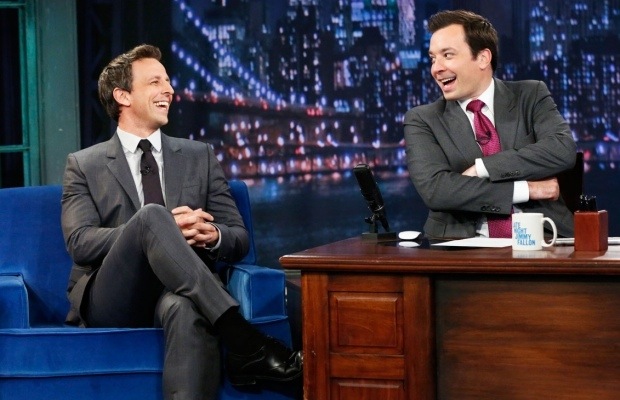 By: Paige Lloyd
Host changes of late night television have caught the attention of audiences around the nation with a new perspective of comedy for viewers to enjoy.
A change in late night is seen in Seth Meyers taking up Jimmy Fallon's position on "Late Night" and leaving "Weekend Update." His show includes the typical elements of talk shows on late night television, such as a musical performance, a monologue, and celebrity guests in interviews and skits. Meyers does use different methods throughout his show to distinguish himself from former host Fallon and other hosts on late night by using topical comedy or satire. Within this, he uses important news and current affairs to fuel his conversations and his punch lines. A section of this on his show is called "Next Week's News" where Meyers predicts news stories based on information given during that week. Segments like this relate closely to characteristics of his hosting on "Weekend Update" and his role on "Saturday Night Live" with the way he paces his shows.
Another part of his show that has received much attention is that of his scripted interviews. In these, Meyers will have actors sit in the audience and act ridiculously, hashing out insults and jokes as an audience member. It may be relatively new, but Meyers continues to add new segments to the show that increase interest and viewership overall. A newly added segment called "Fake or Florida" was added by Meyers and quickly became popular. Within this game, the selected contestants are read different headlines from news stories and must decided whether it is fake or really did happen in Florida. This is due to the overwhelming amount of outrageous stories that seem to be produced out of this southern state.
With his departure from "Late Night," Jimmy Fallon now finds a new home on the "Tonight Show" which includes its own changes. The majority of changes in late night were done to the "Tonight Show" as Jimmy Fallon replaced Jay Leno. It hit its one-month anniversary of having Fallon as host on March 17th.  The show changed times as well as it now airs at 11:35pm instead of its much later 12:35pm time slot. The earlier slot not only produced more viewership but a different demographic that was surprising to producers as well.  The show now has a viewer range from 18-49 years old; a large range that illustrates just how versatile the program is to suiting all age groups.
An example of how the show has progressed is within the number of viewers it has received also. On average, Fallon's "Tonight Show" has 4.3 million viewers, which in comparison with Leno's average of 4.1 and Letterman's 2.8 million, means it has accomplished its goals of becoming a hit on late night television. The growing interest can be seen as audience members watch the live show but also go to sites such as YouTube to re-watch clips that caught their attention even more so than usual. A clip of Fallon and Will Smith acting out "The evolution of hip-hop dancing" has been viewed more than 13 million times. Another clip featuring comedian Paul Rudd and Fallon in a lip-syncing duel with songs by Foreigner, Tina Turner and Queen has received more than 9 millions views on YouTube. A featured segment that has been on Fallon's repertoire since his beginning on "Late Night" is called "Thank You Notes," where he writes funny notes to random celebrities and different pop culture material. One of his notes reads: "Thank you peer pressure, for being totally not cool. Unless my friends think it's cool, then it's pretty cool I guess." His satire and sarcasm allow for optimal humor and his new position as host of the "Tonight Show" to be a success overall.
There is one thing about both of these new hosts on this traditional shows that have aired for so long that allowed for more viewership and a different type of viewer as well. It is the type of comedy that the new hosts have implements and expanded on throughout their new positions. In the past, late night television was seen as a cynical and many programs portrayed this within their monologues, interviews and minimal skits. The transition with Fallon and Meyers includes feel-good comedy, such comedy that makes the viewer want to keep watching because it makes them optimistic and happy. Cynical comedy can be effective with certain hosts but the change has so far caught the attention of an overwhelming amount of viewers and keeps their attention with the continually high averages of viewers for each of the shows.