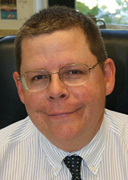 When Marquette's Dean of Undergraduate Admissions Robert "Roby" Blust announced his resignation to the university Thursday, he not only vacated his position, but also became the fifth member of the University Leadership Council to leave this year.
Blust, whose resignation becomes effective June 1, accepted a position as the vice president of enrollment at Regis University in Denver after the president of Regis, the Rev. John Fitzgibbons, offered him the position.
In leaving, Blust joins former University President the Rev. Scott Pilarz, former Athletic Director Larry Williams, former Executive Vice President Mary DiStanislao and former Provost John Pauly as departures from the University Leadership Council.
"Looking at the departures, they are more individualistic than collective," Blust said. "The people that I've talked to all had their own reasons for going."
Blust said he did not apply for the position, explaining that he and Fitzgibbons were close friends since their time together at Marquette. Fitzgibbons served as the associate provost for faculty development from 2009 to 2011, according to the university website.
Blust also said the decision was not made overnight.
"I loved my time at Marquette," Blust said. "In fact, this was a really hard decision – an incredibly difficult decision to make."
With a daughter in Denver and a close relationship with Fitzgibbons, however, he said Regis was simply a better fit.
"The best way to describe it, it's very bittersweet," he said, adding that he felt he made an impact at Marquette during his time here.
"When I came we had 5,000 applications coming in," he continued. "Now we have 24,000. (The applicants) are the future of this place. There's some concern over the administrators, but they are the real future at Marquette."
Margaret Callahan, interim provost and dean of the College of Nursing, said in a university-issued news brief that Blust's exceptional work in undergraduate admissions made him a likely target to be picked up by other universities.
"While we all wish Roby could stay at Marquette, I'm not surprised that Regis recognized Roby's talents and leadership," Callahan said.
Blust's position will temporarily be filled by Jean Burke, the associate dean of undergraduate admissions, according to the university.
"(Burke) is terrific," Blust said. "I worked with her at Loyola. She's got a wealth of admissions experience."
Callahan said the university is preparing to conduct a search to fill the position, and that she is "confident that Marquette's reputation will attract many first-rate candidates for the role."
Since late October when Interim University President the Rev. Robert A. Wild announced an overhaul of the leadership structure to the "strong provost" model, the Office of Administration was abolished and leadership positions have yet to be permanently filled.