College of Nursing still searching for new dean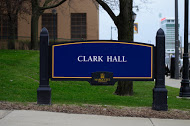 The search for a new dean of the College of Nursing continues almost a year after former dean Margaret Callahan resigned in June 2015 to become the provost for the health science division at Loyola University Chicago.
Lisa Hanson, search committee chair and a professor in the College of Nursing, said there are specific characteristics for which the committee is looking.
"The faculty needs to continue to be excellent teachers and help nurses that are Marquette graduates be excellent nurses," Hanson said.
The search for the new dean is a closed process, which means the names of specific candidates are not released to the public.
"The closed process is to allow people, who might otherwise feel uncomfortable with their current work employer or current work situation knowing they are applying for a deanship to feel more comfortable that they can confidentially apply and then see where the process leads without people in their setting being aware," Hanson said.
Hanson said the closed process presents the challenge that candidates might not fully understand the Marquette community, which the committee solved by creating a video.
"What our group did was create a video that sort of captures some of the spirit and some of the people and some of the interesting things that are going on," Hanson said.
While Hanson cannot disclose who or how many candidates there are, she did say the process is going well.
"We have a nice pool of candidates that represent a lot of depth in terms of deans and faculty members and administrators," Hanson said.
This is Hanson's third time on a search committee for the dean of the College of Nursing. The past two searches were public.
Past search committees were public for the deans of: the College of Communication, Graduate school, College of Business Administration,and for the Vice President and Director of Athletics and the Vice President of Student Affairs.
Leave a Comment